Army, SSS Pound Suspected Terrorists' Hideout In Bauchi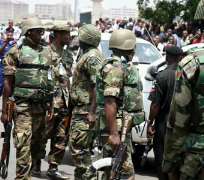 SAN FRANCISCO, February 16, (THEWILL) - A combined team of the men and officers of the Nigerian Army as well as State Security Service (SSS) operatives, Saturday, descended heavily on a house suspected to be a terrorists' hideout in Bauchi.
The house, situated behind Federal Government Girls College (FGGC) in the Abujan Kwata quarters of Bauchi metropolis, according to a top security source, is suspected to be the hideout of terrorists behind the recent attacks in the state capital.
"We had a joint operation of Army and the SSS because we had received intelligence information about the hideouts of some criminals and we traced the place, so we cordoned off the area around 1;30am last Friday. When the hoodlums sighted our men, they started throwing explosives and shooting.
"We made efforts to enter the place but because of the wall that surrounded the house, we were not able to enter until when part of the house was destroyed. The hoodlums escaped through the backyard but we recovered many explosives and we also drafted our men to pursue the suspects," the source, who spoke on condition of anonymity, said.
Residents of the area were seen in groups discussing the incident while many visited the house to see for themselves what had happened . They said they saw two armoured personnel carriers (APCs) ''and we were told to remain calm but later as we all entered our houses late in the night, we heard several gunshots and loud sounds of explosives, but all of us were afraid and we couldn't come out until this morning.''
They said they really don't know what actually happened and didn't know the occupants of the house because the occupants always spend between five days to two weeks in the area and don't really mix with people in the neighbourhood.
The Bauchi State Police Commissioner, Mohammed Ladan, could not be reached for confirmation of the incident as he failed to pick his calls and did not reply the text message sent to him at the time of filing this report.