Wall Street Edges Up On Data, S&P Up For Seventh Week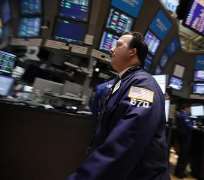 Stocks rose slightly Friday with the S&P 500 gaining for a seventh week in the wake of upbeat consumer sentiment data, though thin trading and the modest rise showed a continuing trend of a consolidating market after strong recent gains.
The S&P 500, up nearly 7 percent so far this year, is facing strong technical resistance near the 1,525 level. But investors, expecting the index to advance further in the quarter, have held back from locking in profits.
The Thomson Reuters/University of Michigan's preliminary reading on the overall index of consumer sentiment rose to 76.3 in February from 73.8 in January, topping economists' forecasts of 74.8.
"This is unexpected given the increase in gas prices and payroll taxes," said Jim Awad, managing director at Zephyr Management in New York. "This is a welcome event and it should be embraced by the market."
The Dow Jones industrial average .DJI rose 14.51 points or 0.1 percent, to 13,987.9, the S&P 500 .SPX gained 1.44 points or 0.09 percent, to 1,522.82 and the Nasdaq Composite .IXIC added 4.68 points or 0.15 percent, to 3,203.34.
The S&P is on track to register its seventh straight week of gains by the close of trading Friday, a feat not seen since a run of consecutive weekly gains between December 2010 and January 2011.
A surge in merger and acquisition activity, with more than $158 billion in deals announced so far in 2013, has given further support to the equity market as it points to healthy valuations and bets on the economic outlook.
Art Hogan, managing director of Lazard Capital Markets in New York, said the flurry of mergers and acquisitions should be seen as a tailwind for the market.
"You don't go into M&A if you don't have a positive outlook," he said.
Herbalife (HLF.N) shares surged 10 percent to $42.12 a day after billionaire investor Carl Icahn said in a regulatory filing that he now owns 13 percent of Herbalife and was ready to put it in play.
Burger King Worldwide (BKW.N) shares jumped 3.8 percent to $17.21 after it beat estimates with a 94 percent rise in fourth-quarter profit, thanks to new menu additions.
REUTERS