Manufacturing Stumbles But Seen Regaining Footing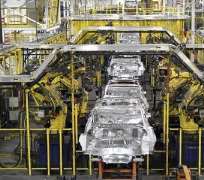 Manufacturing got off to a weak start this year as motor vehicle assembly tumbled, but a rebound in factory activity in New York state this month suggested the decline would be temporary.
Manufacturing output fell 0.4 percent in January after rising 1.1 percent in December, the Federal Reserve said on Friday. It followed two months of solid gains and largely reflected a drop in auto production.
"Given that most of the weakness was due to the give-back in motor vehicle production after the 11 percent surge in activity during the last two months of last year, we expect this retreat in industrial output to be temporary," said Millan Mulraine, senior economist at TD Securities in New York.
In a separate report, the New York Fed said its "Empire State" general business conditions index rose to 10.0 from -7.8 the month before. February's index showed the first growth in the sector since July and the best performance since May 2012.
The rebound was driven by new orders, where the index was at its highest since May 2011. Economists said the pick-up in activity likely reflected recovery from Superstorm Sandy, which struck the East Coast in late October.
"Growth in the current quarter could get a boost from rebuilding efforts in the region," said Joseph LaVorgna, chief U.S. economist at Deutsche Bank Securities in New York.
Factory activity has cooled in recent months, but there is no sign that the sector, which carried the economy's recovery from the 2007-09 recession, is heading for a hard landing.
The weakness in manufacturing last month helped to push overall industrial production down 0.1 percent. Output had increased 0.4 percent in December.
Production at the nation's mines fell 1.0 percent.
With industrial output weak, the amount of capacity in use fell to 79.1 percent from 79.3 percent in December.
Industrial capacity utilization - a measure of how fully firms are using their resources - was 1.1 percentage points below its long-run average.
Officials at the Fed tend to look at utilization measures as a signal of how much "slack" remains in the economy, and how much room growth has to run before it becomes inflationary.
REUTERS