Bakassi Returnees Slam N30bn Suit Against FG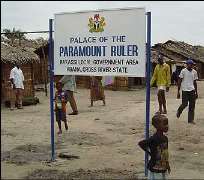 SAN FRANCISCO, February 13, (THEWILL) - A N30 billion suit has been slammed against the Federal Government by returnees of Uruan Local Government Area of Akwa Ibom State extraction in the Bakassi Peninsula now in Cameroon.
Filing the suit at the Federal High Court, Abuja, on Wednesday, the returnees are asking for a whopping N30 billion as compensation from the Federal Government for alleged acts of betrayal, leading to the loss of their ancestral home at the Bakassi Peninsula to Cameroon.
A Writ of Summons and Statement of Claim was filed on their behalf by Barrister Ukeme Ekpenyong of Wole Abidakun and Co. law firm at the Federa High Court, Abuja.
The returnees include Bassey Augustine Efiong, Silas Clement Etim, Efiong Bassey Ekanem and Imaobong Edem Efiong are suing for themselves and on behalf of Bakassi Returnees of Uruan Local Government Area extraction.
Listed as 1st to 6th defendants respectively are the Federal Republic of Nigeria (FRN), the Attorney General of the Federation (AGF), the National Assembly, Cross Rivers State Government, Akwa Ibom State Government and the Independent National Electoral Commission (INEC).
According to the writ of summon, the plaintiffs are seeking against the defendants the following reliefs:
* A declaration that the defendants acted outrageously, recklessly, atrociously and unconscionably in their handling of the Bakassi Peninsula hand over issue.
* A declaration that the defendants betrayed the fiduciary relationship between them and the plaintiffs by not acting in the best interest of the plaintiffs vis a vis the handing over of Bakassi Peninsula to the Republic of Cameroon.
* A declaration that the plaintiffs were vulnerable as far as the issue of the handing over of the Bakassi Peninsula by the first defendant (FRN) is concerned and the defendants took undue advantage of the plaintiffs' vulnerability, thereby recklessly inflicting severe emotional distress on the plaintiffs.
* A declaration that the failure of the 6th defendant (INEC) to register the plaintiffs in the voters register has deprived the plaintiffs of their voting rights both in the April 2011 general elections and the July 2012 Local Government elections.
* An order directing the 1st, 4th and 5th Defendants (FRN, Cross Rivers State Government and Akwa Ibom State Government respectively) to immediately provide basic amenities like schools, health centres, potable water, proper accommodation and means of transportation in the plaintiffs' new settlements.
They are also seeking, among other reliefs, an order directing the 6th defendant (INEC) to immediately commence the registration of eligible voters in the plaintiffs' new settlements; N20, 000,000,000 (Twenty Billion naira) as general damages and N10, 000,000,000 (ten billion Naira) on the footing of exemplary damages.
Justice Mohammed Abubakar therefore fixed hearing in the matter for March 6 .