Oyo Asks EFCC To Refund Ladoja 'Stolen' Money, Expedite Akala's Trial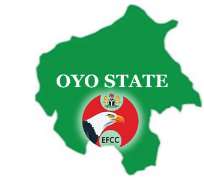 SAN FRANCISCO, February 12, (THEWILL) - The Oyo State government has asked the Economic and Financial Crimes Commission (EFCC) to release to it money and property belonging to the state confiscated from its former governor, Senator Rashidi Ladoja, as well as expedite the trial of former governor, Adebayo Alao-Akala.
This decision, which formed part of the resolutions of the State Executive Council, was conveyed to the press on Tuesday in a statement by the State Commissioner for Information, Mr. Taiwo Otegbeye.
According to the executive council resolution, this was necessary for good governance.
The statement reads in part: "The Executive Council of Oyo State Government has passed a resolution urging the Economic and Financial Crimes Commission (EFCC) to expedite action on the trial of the two former governors of Oyo State and their co-accused persons facing trial for misappropriation of the state funds and resources."
While commending the EFCC for its giant strides in investigating, arresting and prosecuting the two former governors for offences relating to misappropriation and conversion of the state funds and resources, the government noted that the trials of the former governors were yet to commence.
More specifically, in the statement, the state asked the commission to release to it the state government money and property recovered from the governors and their fellow accused persons.
According to the government, the money and property recovered by the anti-graft agency, which it said were well over N700 million, (Seven hundred million naira), was still outstanding.
The government thus demanded for the refund to enable the state apply and use it for the execution of developmental projects in the state.
"The council pledges the support and cooperation of the Oyo State Government to EFCC in its task of ridding the country of corruption," the statement said.