Barclays Vows Fresh Course, Axes 3,700 Jobs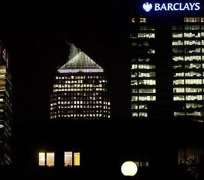 Barclays' new chief executive pledged a fresh course for the British lender on Tuesday, axing at least 3,700 jobs and pruning its investment bank as he seeks to rebuild its reputation and boost profitability after a series of scandals.
In an attempt to distance Britain's third biggest bank from the aggressive, high-risk culture championed by his predecessor, Antony Jenkins said Barclays would put ethics above earnings at the bank, which has become a focus for public anger at the excesses of the financial sector.
"Barclays is changing. There will be no going back to the old way of doing things. We are changing the way we do business, we are changing the type of business we do," Jenkins said.
"I understand why there is cynicism and skepticism out there given the track record of banks in the past. You should judge us by what we deliver in the next one, two, five or ten years," he said at a news conference.
Jenkins unveiled his grand plan, dubbed "Project Transform", at London's Royal Horticultural Halls, an Edwardian exhibition space well away from the bank's skyscraper headquarters in Canary Wharf and just a short walk from parliament, where lawmakers have heavily criticized the bank for its misdeeds.
Keen to show change is afoot, Jenkins cut pay for investment bankers, halted speculative trading in soft commodities and closed a profitable tax advisory unit, which one lawmaker last week said advised clients on "industrial scale tax avoidance".
Jenkins, wearing a bright blue tie and sober grey suit, gave a precise presentation but rarely strayed into awkward territory. He refused to answer questions about the future of Rich Ricci, head of the investment bank and one of the last remaining senior executives of the previous era.
"I can't predict the future," Jenkins said.
He committed to keeping the investment bank, which contributes more than half of group earnings, and did not go as far as rivals such as UBS or RBS in cutbacks in this area, saying the division was one of "an increasingly small group" of firms winning business and improving margins.
Investors applauded the bank's plans to raise its dividend and cut 1.7 billion pounds in annual costs, including eliminating 1,800 jobs in corporate and investment banking and 1,900 in its European retail and business banking.
"A commitment to cost reductions and evidence of cost control in the investment bank bonus pool have spurred today's renewed optimism," Simon Maughan, strategist at Olivetree Securities, said.
Barclays shares surged 7.5 percent to 325 pence, their highest level for two years, making them the strongest performer in a European banking index up 1.1 percent. The bank's shares are up 75 percent since Jenkins took the helm at the end of August, lifting the its value to $62 billion.
POSITIVE FOR UK BANKS
Jenkins, 51, has said he expects "Project Transform", his plan to revamp the bank, to take five to 10 years and has told staff they should leave if they do not want to sign up to the new standards.
He cut the average bonus for investment bankers to 54,100 pounds for last year, down 17 percent on the year. It will pay 1.85 billion pounds in bonuses, down 14 percent.
"We need to give our investors a bigger share of the income we generate," he said.
But he warned there would be no quick fix and the bank would not deliver his target of a return on equity above 11.5 percent until 2015.
Jenkins will focus investment in Britain, the United States and Africa, and cut back in continental Europe and Asia.
Nearly one in three of Barclays' branches across Italy, Spain, Portugal and France will close, or about 340 branches and sales centers, and remaining retail operations there will focus on well-off customers.
Jenkins will scale back the investment bank's equities and advisory businesses in continental Europe and Asia.
He said his "root and branch" review of 75 business units will result in four being closed, covering old assets held in fixed income and European corporate and retail loans.
A further 17 units, which contribute 2 billion pounds of income, could be sold or will need a significant transition to make the grade, including the tax unit and a raft of European retail operations.
Another 15 units will need restructuring, while 39 units are performing well and will get investment to grow, the bank said.
Jenkins aims to cut the bank's cost base to 16.8 billion pounds in 2015, excluding one-off costs to achieve that of 2.7 billion over the next three years, and lift its dividend to achieve a 30 percent payout ratio.
The bank will pay a dividend of 6.5 pence per share for 2012 from 6p in 2011, or a payout ratio of 19 percent, which analysts said was an encouraging signal for it and UK rivals given that regulators are telling banks to conserve capital.
Barclays is still recovering from the political furor that followed its $450 million fine for manipulating benchmark interest rates in June. The ensuing storm triggered the departure of its then chief executive, former Wall Street trader Bob Diamond, and chairman Marcus Agius.
Its bill, meanwhile, to compensate customers for mis-sold products has hit 3.5 billion pounds and investigations are continuing into whether it correctly disclosed fundraisings from Middle East investors.
The Financial Services Authority and Serious Fraud Office are probing certain commercial arrangements between Barclays and Qatari investors related to two 2008 fundraisings.
The bank reported a 2012 pretax profit of 246 million pounds, down from 5.9 billion in 2011 due to the cost of compensating customers and losses on the value of its own debt.
Its adjusted pretax profit for 2012 was 7.05 billion pounds, up 26 percent on the year and in line with the average forecast by analysts, and the bank said it had a good January.
Pretax profit at the investment bank rose by 37 percent to 4.1 billion pounds, stronger than expected, with income down 2 percent from the previous quarter but up 13 percent on the year. ($1=0.6385 British pounds)
REUTERS