Are British Brains Behind The iPad Chip?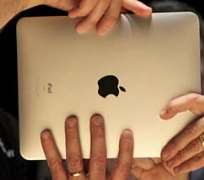 A relatively unheard-of Cambridge company has sparked speculation that British brains may be behind the hi-tech chip powering Apple's new iPad.
ARM Holdings, which designs microprocessors and sells the intellectual property to developers, saw its share price make an early rise the morning after Apple boss Steve Jobs unveiled the new touch-screen tablet.
"It appears that (the processor) has been designed by the PA Semi team which Apple acquired and it is extremely likely it is ARM based, like the processor in the iPhone," said analyst Nick James of stockbroker Panmure Gordan.
His view was echoed by several technology bloggers who speculated that the iPad's features "say ARM all over".
ARM, however, said they were not able to confirm whether their designs were included in the long-awaited Apple product.
"I think that's really up to Apple to disclose," Ian Drew, ARM's executive VP of marketing, told Sky News Online.
"We've seen the speculation as well, but we don't know any more. We licence our intellectual property to a number of people.
"How chips get designed is really up to them. That does not mean Apple licence our intellectual property. We have no contact with Apple and no comment on who we licence to."
Apple is using its own processor in the iPad - described as a 1GHz Apple A4 custom-designed, high-performance, low-power system-on-a-chip - but it would not comment on the designs behind the component.
The globally-admired brand, which sold 8.7 million iPhones in the last three months of 2009, has been at the centre of a surge in demand for web-connected mobile devices.
This interest has greatly benefitted ARM, which says it expects continued expansion in the area.
"The rise of mobile internet has been very good for us. We do the core design for 90% mobile phones in the world, but it's not just about phones - our chips also go into cars, printers and TV set top-boxes for example," said Mr Drew.
"We see huge growth. If you look at how many devices are connected to the internet in your home now compared to three years ago when it was just your laptop - there's a four or five fold growth."
Despite a growing market for the chips designed by ARM, the technology firm, which employs 1,740 workers from its base in Cambridge, says it has no plans to manufacture the microprocessors itself.
"For us the business model really makes sense," said Mr Drew.
"We have over 200 licencees who can add different bits to the designs. Samsung, Freescale, Nvidia all do different bits of design on the chip. They have the same core, but the original equipment manufacturer can chose which of those chips they want.
"It's a very much more flexible product."
Mr Drew said the firm was now turning its attention to designing 2GHz processors, developing designs suitable for new notebooks and investigating how mobile internet would be taken up by emerging markets.
"It's all very exciting - a small British company that nobody had really heard of six months ago," he said.
Source: Skynews