Suspected Boko Haram Gang Kills Three North Korean Doctors In Potiskum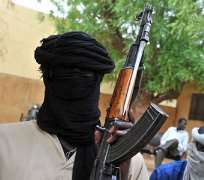 SAN FRANCISCO, February 10, (THEWILL) - A gang of hoodlums suspected to be members of the Boko Haram sect has thrown Potiskum, the commercial capital of Yobe State into mourning with the killing of three North Korean expatriate doctors.
The incident happened at about 8pm on Saturday when the gang invaded the residence of the Chinese doctors who were providing technical assistance to the Yobe State Ministry of Health.
THEWILL gathered that the bandits were said to have forced their way into the residence of the expatriates, which is in one of the choicest part of the town, before going straight for the doctors whose throats were slashed with knives.
Confirming the incident, Yobe State Commissioner of Police, Alhaji Sanusi Rufai, promised to fish out the killers, saying the killing of the innocent Chinese who are in the state to help the people with their expertise is rather unfortunate.
A resident of the town, who spoke to THEWILL on condition of anonymity, said the three Korean doctors, a female and two male, were working for the Yobe State Ministry of Health, and were killed at about 8pm at their residence behind the T-junction Hotel.
It is important to note that the latest killing has brought the number of Koreans killed in both Borno and Yobe States since the Boko Haram insurgence to 10 as some Chinese construction workers had earlier been killed in the two states.
The killing of the three North Korean doctors, according to another resident of the town, is another big blow to the Federal Government's efforts at ending the Boko Haram crisis in the northern part of the country.
The resident concludes that the killing of foreigners by Boko Haram in Borno and Yobe States, especially those providing technical assistance to the country, would only bring back the wheel of progress in the two states.
Corroborating this view, one Mallam Audu Isa, also a resident of Potiskum, said: "This is also capable of soiling the good relationship that Nigeria as a country is enjoying with some countries particularly the Asian giants because we heard of the killings of Indians in Maiduguri, we also heard of the killings of Chinese construction workers and only yesterday we read about 10 health workers killed by this group and now three doctors here in Potiskum."
According to Isa, "If you asked me, it is about time the Muslim Ummah rise to challenge the activities of these killers as it is only denting the image of Islam more especially in the Northern part of this country.
"Not long ago, we were in Saudi and even the Arabs are looking at us as terrorists as they have started hearing about the act of terrorism here. I believe they too are wondering with the way these militants are taking this issue. They (the Arabs) have direction and know what they are fighting for; they never attack innocent people especially expatriates in their midst because they need them. These Boko Haram militants are killing everybody and it is not good, they have lost control of their human sense and I think government has to really look into these crises and stop treating the issue with kid gloves."