Car Bombs In Shi'ite Areas Of Iraq Kill 31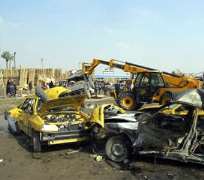 Four car bombs killed at least 31 people at street markets in Iraq on Friday, police and medics said, as sectarian violence grows ahead of provincial elections in April.
Two car bombs were detonated simultaneously in a Friday street market selling birds and other pets in the Shi'ite district of Kadhimiya in Baghdad, killing at least 16 people and wounding another 44, police and hospital sources said.
"Bodies of young men and children covered with blood were everywhere and the dead pets, birds, shoes and broken cages were scattered here and there," said a policeman at the scene named Ahmed.
Fifteen people were killed in two car bomb explosions at a vegetable market in the Shi'ite city of Hilla, 100 km (60 miles) south of the Iraqi capital.
An upsurge in bombings since the withdrawal of U.S. troops in late 2011 is deepening fears of a return to the sectarian and ethnic strife that killed tens of thousands of Iraqis in 2006 and 2007.
Prime Minister Nouri al-Maliki, a Shi'ite, is facing mass protests by disenchanted Sunni Muslims and is at loggerheads with ethnic Kurds who run their northern region autonomously from Baghdad.
The prospect of the election is hardening the divisions as political leaders appeal to their constituencies with often hostile rhetoric that rejects compromise.
Thousands of Sunni Muslims have taken to the streets since late December in protest at what they see as the marginalization of their sect since the fall of Saddam Hussein and the empowerment of Iraq's Shi'ite majority through the ballot box.
The demonstrations in the Sunni heartland of Anbar are also compounding fears that war in neighboring Syria - where Sunni rebels are fighting to topple a leader backed by Shi'ite Iran - could further upset Iraq's own delicate sectarian and ethnic balance.
No group claimed responsibility for the attacks on Friday.
Iraq is home to several Sunni insurgent groups that have carried out at least one high-casualty attack a month since the U.S. withdrawal. They include a local branch of al Qaeda, the Islamic State of Iraq, which often targets Shi'ites, seeking to re-ignite sectarian strife.
REUTERS