Women Protest Rocks Town Hall Meeting In Maiduguri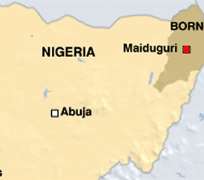 SAN FRANCISCO, February 07, (THEWILL) – A protest organised by women whose husbands are being detained by the military Joint Task Force (JTF) in Borno State , Operation Restore Order, over the Boko Haram crisis nearly marred the Town Hall Meeting organised by the military in Maiduguri on Thursday.
The women, numbering about 100, had stormed the Ramat Square, venue of the meeting, protesting the non-release of their husbands and wards as they had anticipated in the spirit of the ceasefire recently declared by Boko Haram.
The women who had anticipated the release of their detained husbands were however disappointed when the top military brass who came for the meeting left without announcing their release.
The women thereafter took the protest to the streets and thereafter headed for the Government House where the military top brass from the Defence Headquarters had relocated for another meeting with religious and community leaders as a way of resolving the crisis.
The protest train was however stopped at the post office area in the centre of the town by a detachment of the JTF which fired gunshots into the air at about 12noon to disperse the women.
Reacting to the protest, a deputy director, Civil Military Operations from the Defence Headquarters, Air Commodore Ademola Onitiju, who was sent to Maiduguri by the Chief of Defence Staff, Vice Admiral Ola Sa'ad Ibrahim, maintained that the detainees could only be released after full investigation has been conducted.
He said after the investigation, those found to be innocent would be released and those found culpable would be brought before the court of law.
Onitiju assured that the terrorists are still seen in military circle as "our people," compatriots and not enemies that should be terminated.
While admitting that there could be human errors in the operations of the JTF in the area, he however reminded the people that the Task Force was never sent out to kill members of the terrorist group but to restore peace to the area.
"We were here to interact with the people to see where we have erred, how the civil populace can help us to achieve peace. How we can smoothen rough edges to achieve peace.
"Our operations was never intended to keep people in detention. The Chief of Defence Staff has sent us to tell the people that we did not intend to keep people in detention with impunity but situation warrant it," he said.
He also disclosed that the Defence Headquarters may soon constitute a strong panel of investigation to separate the wheat from the chaff and rehabilitate those who might have been affected by the crisis.