APO and Acquire Media Sign Distribution Agreement
This partnership will allow APO customers to reach Acquire Media users worldwide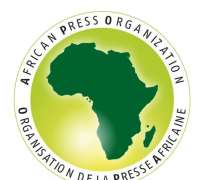 DAKAR, Sénégal, February 7, 2013/African Press Organization (APO)/ -- The African Press Organization (APO) (http://www.apo-opa.org), the leading press release wire in Africa and Acquire Media (http://www.acquiremedia.com), a leading digital media provider serving financial services and corporate communities, announced today a comprehensive content alliance.
Logo APO: http://www.photos.apo-opa.com/plog-content/images/apo/logos/african-press-organization.jpg
The African Press Organization will provide Acquire Media with an Africa-related news release feed issued by companies, governments, international organizations, non-governmental organizations (NGOs), United Nations (UN) agencies, and more, in four languages: English, French, Portuguese and Spanish.
Via Acquire Media, APO content will be made available throughout the Acquire Media product line including its flagship enterprise product, NewsEdge.com.
"Our clients count on Acquire Media to provide the most relevant and comprehensive news collection for their alerting, monitoring and research needs. The APO-feed enhances this collection providing a valuable resource for press releases and media content from Africa", stated Jason McGorty, Director of Content.
"This partnership will allow APO customers to reach Acquire Media users worldwide and inform them of new developments, investments and product launches done on the continent", said Eloïne Barry, APO's Executive Director.
"Professionals of leading corporations consider the African continent as an asset to their development. Offering them intelligence and company information in real-time will help them make better investment decisions", added Barry.
About APO
The African Press Organization (APO) (http://www.apo-opa.org) is the leading press release wire in Africa, and the global leader in media relations related to Africa.
With headquarters in Dakar, Senegal, APO owns a media database of over 25,000 contacts and the main Africa-related news online community.
It offers a complete range of services such as press releases wire and monitoring, online press conferences, interactive webcasts, media interactions, strategic advice, public diplomacy, government relations, and events promotion. To know more please visit, http://www.apo-opa.org.
More information about Africa Wire®, the service for press release wire distribution in Africa: http://www.apo-opa.org/our-services/press-release-distribution-monitoring
Media contact:
Aïssatou Diallo
+41 22 534 9675
About Acquire Media
Acquire Media (http://www.acquiremedia.com) is a premier digital media and software company delivering multimedia news with guaranteed reliability in formats that make content instantly useable and searchable. Acquire Media, with offices and agents worldwide, serves the news, digital publishing and financial services communities. Clients depend on the real-time reliability of its low-latency content delivery services, 24x7 support, and its ability to handle multiple simultaneous outputs, formats, and delivery options.
Media contact:
Jennifer Tule
+1 973 422 0800