Boeing Working On 787 Battery Changes For Fire Risk: WSJ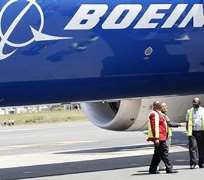 Boeing Co (BA.N) is working on battery design changes that would minimize fire risks on its grounded 787 Dreamliner and could have the passenger jet flying again as soon as March, the Wall Street Journal reported.
Separately, U.S. aviation regulators said they would allow Boeing to make a one-off 787 flight from Texas to the company's facility in Washington State, under strict conditions. Boeing said the plane, scheduled for delivery to China Southern Airlines (600029.SS), would be a "ferry" flight - used to relocate a plane without carrying passengers or conducting tests.
Regulators around the world grounded the technologically advanced 787 in mid-January after a battery fire in Boston and a second incident involving a battery on a flight in Japan.
Boeing is looking at changes within the 787's lithium-ion battery to keep heat or fire from spreading, though technical details have not yet been finalized or approved, the Wall Street Journal reported, citing unnamed government and industry officials. One of the paper's sources added that, under a best-case scenario, passenger flights could resume in March.
However, the Dreamliner's launch customer All Nippon Airways Co Ltd (ANA) (9202.T), which has the biggest fleet of the 250-seat planes, said it will cancel 1,887 flights, affecting more than 25,000 passengers, from March 1 to 30. The airline said it had no information on Boeing's latest battery plans.
Boeing declined to comment on the newspaper report. GS Yuasa Corp (6674.T), the Japanese firm that makes batteries for the 787, also declined to comment.
INVESTIGATIONS ONGOING
Air safety investigators from the United States and Japan have been investigating the battery incidents for three weeks. On Wednesday, the head of the U.S. National Transportation Safety Board (NTSB) said it was "probably weeks away" from completing its probe. NTSB Chairman Deborah Hersman will update on the investigation at a briefing later on Thursday.
In Tokyo, one official said Japanese regulators had not been notified of any breakthrough in the U.S. battery probe. "The investigation will continue as scheduled. Resuming flights in March ... seems far too optimistic to me," said the official who didn't want to be named as the investigation is ongoing.
One source familiar with the investigation told Reuters that Boeing engineers sprang into action "almost immediately" after the first battery incident to ensure the company could meet special Federal Aviation Administration-approved conditions to allow lithium-ion batteries on the aircraft. "They can't afford to sit around with their planes on the ground," said the source, who was not authorized to speak publicly.
Boeing was pursuing multiple solutions to mitigate and contain a fire if one started in the batteries, part of a determined effort to get the 787s back in the air while a more permanent solution - possibly even a different battery - was explored. Three or four different approaches would be pursued to ensure the batteries did not breach their containment systems, even if they caught fire, said the source.
COMPENSATION CLAIMS
Dinesh Keskar, Boeing's vice-president for sales in Asia Pacific and India, reiterated that, based on current knowledge, the planemaker would stick with lithium-ion battery technology for the Dreamliner.
He also told Reuters on the sidelines of an airshow in Bangalore on Thursday that Boeing will address compensation claims from its 787 customers after the grounded jetliner is back in service. "The focus is to get the airplane back, then we will deal with that issue (of compensation) like we dealt with all these deliveries that are happening," Keskar said. "We will deal with that in closed rooms and with customers."
Indian national carrier Air India AIN.UL, which has six Dreamliners and has ordered 21 more, has said it could seek compensation from Boeing. ANA and local rival Japan Airlines Co Ltd (9201.T) have also said they will seek compensation from Boeing once the amount of damages is clearer. JAL this week predicted the 787's grounding would cost it nearly $8 million in lost earnings through March.
"FERRY" FLIGHT
Boeing asked the FAA this week for permission to conduct new test flights of the 787, suggesting it is making progress in finding a solution to the problems, but the government agency has not yet announced a decision.
While that request is pending, the FAA said on Wednesday it would allow a one-time 787 "ferry" flight. The plane, with a minimum crew, would have to land immediately if the flight computer displays any battery-related messages. It was not immediately clear when the flight would take place.
The head of the Japanese firm that supplies composites for the 787's wings and part of the fuselage said there had been no slowdown in production for the aircraft since the global grounding of the 50 Dreamliners in service.
"We are continuing production at our planned pace, which is for 5 aircraft a month, and our intention is to accelerate up to a planned 10 planes a month," Toru Fukasawa, vice-president of Toray Industries Inc (3402.T), told reporters after the firm released quarterly earnings on Thursday.
"It will take time to complete the battery investigation, so our hope is that can be completed quickly and deliveries can restart. Should the grounding continue for a long time, that would begin to have some impact on us, but for now it's not something we are considering."
REUTERS