Recall Sacked NIMC Staff, House Tells Presidency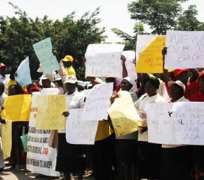 ABUJA, February 06, (THEWILL) – The Federal Civil Service Commission (FCSC) has been told to recall the sacked 3,099 staff of the National Identity Management Commission(NIMC) and reabsorb them into other Ministries, Departments and Agencies (MDAs).
Making the call, Wednesday, was the House of Representatives, which also called on President Goodluck Jonathan to order NIMC to present the disengaged staff to the private partner for first option consideration of those suitably qualified for utilisation under the national identity scheme.
Wednesday's call followed a petition the sacked workers sent to the National Assembly in which they claimed that 4, 029 of them were sacked unceremoniously in 2012.
But briefing the House on the recommendations of his committee, Wednesday, chairman of the House Committee on Public Petitions, Hon.. Uzo Azubuike (PDP-Abia), said the commission followed due process in disengaging the staff.
Azubuike said that the committee however came up with these recommendations in view of the security risk involved in the number of staff sacked by the commission.
He said that at the public hearing, the committee discovered to the contrary that the number of staff sacked was 3,099 and not 4,029.
It would be recalled that the Director-General of the Commission, Mr Chris Onyemenam , in his own presentation at the hearing explained that the disengagement became necessary because most of the staff were redundant.
He also disagreed on the number of "redundant" disengaged staff from the commission, putting the figure at 3,099.