INTERNATIONAL RECOGNITION AND AWARD FOR NIGERIA'S FOREIGN AFFAIRS MINISTER, PROFESSOR (MRS) VIOLA ADAKU ONWULIRI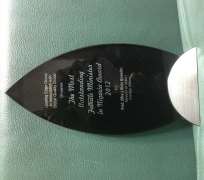 Abuja, Feb 4, 2013: History was made in far away Dubai as the Nigeria's Diplomatic Star, the Foreign Affairs Minister of State 1, Prof. Mrs. Viola Adaku Onwuliri emerged the MOST OUTSTANDING FEMALE MINISTER OF THE YEAR, 2012.
The event was a Red Carpet Ovation for Women Transformers in West Africa with the theme, Women Transformational leadershipAwards. It was organized by the Leading Edge Group in Association with Dubai Quality Group on the 15th of December 2012 at the Prestigious Traders' Hotel Dubai.
The West Africa Institute for leadership and Governance, (WAILAG) Accra and Leading Edge Academy were conceived with the mandate to reshape the practice of management and leadership in the corporate sectors and public systems. In this instance therefore, women are thus aided to unleash their potentials in management and leadership.
According to reports, four other Ministers of the present administration of Mr President Jonathan were nominated along with The Foreign Affairs Minister of State 1 for the award. However, Prof. Viola emerged tops of the coveted Honours Class after considering her unique and unparalleled handling of Nigeria Image globally; coupled with her ingenuous savvy in the Diplomatic community.
The award which was presented during the grand finale of the event was greatly applauded by over 2500 delegates that attended the occasion from all over the world
In her reaction, the 2012 MOST OUTSTANDING FEMALE MINISTER IN NIGERIA Award Winner, Prof Mrs Onwuliri, expressed great joy and satisfaction on the award and described it as a manifestation of God's grace. She joyfully dedicated the award to Mr President, Dr Goodluck Ebele Jonathan GCFRfor his unrelenting efforts and encouragement for the betterment of Nigeria and Nigerians in Diaspora and to her late husband, Professor C.O.E Onwuliri, FAS, KSJwho died in the June 3rd Dana Aircrash for all his support to her in their over 32 years of marriage and his commitment to the Nigerian Project until death.
Ejike Arinze
Citizen Reporter. Abuja
Eastern Arrow News