Terry G Poses With Son In New Photo, Christens Baby 'Rex'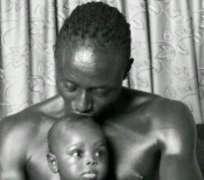 The Akpako master, as Terry G is fondly called, is not new in the entertainment industry in Nigeria. In 2012, the singer welcomed his first child, a son, from his UK-based babymama. The singer has christened his son Rex.
As a way of building a formidable bond with his son, the Idoma-native entertainer has been showing love to his baby boy. A picture recently went viral on the internet where the singer backed his child.
Now, another photo is about flooding the online media showing Terry G and his son, Rex, posing in a new photograph.
Terry is definitely enjoying fatherhood.