Fresh evidence of bloody clashes in Nigeria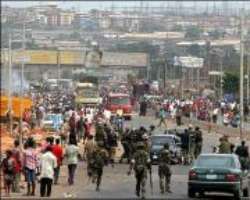 EN-GB X-NONE X-NONE
Charred remains and corpses dumped in wells were retrieved from a village close to the central Nigerian city of Jos on Friday in some of the worst evidence yet documented of this week's ethnic and religious clashes.
The grim revelations will add to fears that the death count across Jos and its outskirts is far higher than that recorded so far by humanitarian agencies, whose estimates are below 200. In this particular village, residents say that more than 100 people were killed.
The violence has pitted the region's predominantly Christian Berom majority – designated the region's "indigenous" inhabitants – against other groups, chiefly the minority Hausa, who are mainly Muslim.
The clashes began on Sunday and abated on Wednesday with the imposition of a 24-hour curfew that was later partially relaxed.
Goodluck Jonathan , Nigeria's vice-president, has placed the military in charge of Jos. The violence has added to the sense of crisis in the country, whose ailing president, Umaru Yar'Adua, has been in Saudi Arabia receiving medical treatment for two months.
A handful of residents who ventured back briefly to the Muslim settlement of several hundred homes, known in English as Kuru Jantar III, found the deserted town almost totally destroyed.
Christian youths had attacked on Tuesday , several residents said. " Women and children – they put them inside [houses] then burned them," said Adamu Sule, 57, a village elder. Others were killed with machetes or shot, residents said.
"They want the land back," Mr Sule added. The commercial success of Hausa immigrants to Jos, compared with the majority, is frequently cited as one of numerous factors underpinning the animosity.
Workers from Jos's central mosque said they had on Thursday retrieved almost 100 bodies from the village.
At least a further 15 had been consigned to a mass grave in the village, while others were thought to be in outlying fields, where residents said they were too scared to venture.
Jos witnessed similar outbreaks of violence in 2001 and 2008. Africa's most populous nation is split between a largely Muslim north and a broadly Christian south. Thousands have died in religious violence since the military handed back power to civilians in 1999.
The Financial Times , among the first foreign media to reach the scene, saw at least six corpses, including the burned remains of a child and a baby.
Abdullahi Aboubakar Wase, 52, wept as his wife's corpse was pulled from a well and placed in a mass grave. He said two of his children had also been killed.
The toll in the village alone comes close to the 160 the Red Cross said on Thursday that it had recorded among both Muslims and Christians across the city.
Christian organisations and Berom leaders have claimed that their people have also been killed in large numbers by Muslims. These claims have been impossible to verify due to tight security in Jos, which is under the control of the army.
The Red Cross estimates that about 18,000 people have been forced from their homes in Jos. The homeless are sheltering in schools and military bases. Many say they are short of basic supplies.
By: Tom Burgis