Jonathan Pledges Support For Yero Administration In Kaduna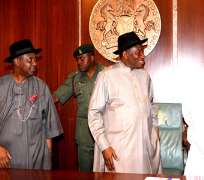 SAN FRANCISCO, February 04, (THEWILL) - President Goodluck Jonathan, Monday, promised to support the Kaduna State governor, Mukhtar Ramalan Yero, in his efforts to ensure that Kaduna remains the fulcrum of the politics of the North.
Jonathan gave the assurance of support when he received a high powered delegation from the state, led by Yero, who had come to officially commiserate with Jonathan on the tragic death of former governor of Kaduna State, Patrick Yakowa and former National Security Adviser (NSA), General Andrew Owoye Azazi who died in a helicopter crash on December 15 last year.
Yero also commiserated with Jonathan on the death of his younger brother, Meni, who died on his 55th birthday on November 20, last year.
While expressing gratitude to the governor, Jonathan urged him to see his ascension to power not just about ensuring that the people of the state get their daily food but making sure that the state retains its leading role as the political torch bearer of the entire North.
He then promised to give his support to Yero to ensure his success in the administration of the state while urging him to be strong to be able to cope with the challenges of governance.
"On my own part, I promise that the relationship between me and Kaduna State has been further cemented by the incident that had happened that we have to lose Yakowa and Azazi the same day in my own State.
"It is something that cannot be erased that have brought a permanent bond between me as a person with my good brothers and sisters from Kaduna State. I will continue to work with you,"' Jonathan said.
Vice President Namadi Sambo, who was also at the State House to welcome the delegates from Kaduna State, expressed gratitude to Yero for the visit, saying Nigerians should continue to pray for the repose of the souls of those who lost their lives in the unfortunate helicopter crash.
Speaking earlier, Yero thanked the President for attending the burial of Yakowa, stressing that it showed a mark of his great leadership as well as display of love and concern for the people of the state.
He also pledged his loyalty to the president as well as his support for the transformation agenda of the Jonathan Administration.