Jonathan's Performance: Opposition's Assessment Unfair, Says Okupe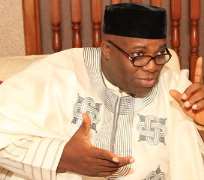 SAN FRANCISCO, February 04, (THEWILL) - The Senior Special Assistant to the President on Public Affairs, Dr. Doyin Okupe has said the repeated claims by the opposition that President Goodluck Jonathan is clueless is baseless.
Addressing a Press conference in Abuja, Dr. Okupe pointed out that, "the repeated false claim by the opposition that the President is incompetent is not only untrue and obviously cannot be supported by facts, but is also part of the opposition strategy to present the government as not been effective so as to advance their selfish cause.
"Nigerians should therefore ignore this wild and baseless comment and team up with the silent and effective achiever, in the person of Dr. Goodluck Jonathan.
"The background of President Jonathan does not fall into the mould of incompetence or cluelessness that the opposition tries too hard to sell to the Nigerian populace".
He debunked such insinuations pointing out that the transformation agenda of the present administration cannot be "judged by noise making, propaganda and deception which are the hallmarks of the activities of the Nigerian opposition".
The Presidential aide maintained that, President Goodluck inherited several challenges in areas like, power, infrastructural decay, Youth Unemployment, Inability to diversify the Economy, Economic Instability, Insecurity and Corruption.
He said most of these issues have been largely addressed.
In the power sector, Dr. Okupe who went down memory lane and x-rayed the challenges that bedeviled the sector before President Goodluck assumed office such as, low generating capacity (output less than 3000 MW), abandoned NIPP Projects, unavailability of gas to service the NIPP projects, transmission challenges and protracted Inability to unbundle the PHCN and the eventual privatization of the sector.
"Most of the above have been achieved and improved upon 100%. The challenge of transmission will be overcome before the end of 2013", he said.
In the area of infrastructural decay he pointed that "the Roads were in states of disrepair Nationwide, railway Corporation was not functional. Airports were in state of total dilapidation, most of them without any maintenance for decades".
According to him as at today, "Benin-Sagamu road has been awarded and presently, the commuting time has been reduced from 12 hours and above to 4 hours. The Lagos-Ibadan Expressway concession was decisively dealt with and immediate rehabilitative efforts were carried out by Julius Berger and RCC, which reduced the burden on commuters on that road during the Christmas holidays. Abuja-Lokoja Expressway is progressing steadily while Kano – Maiduguri road is in progress".
"The East-West Road despite the negative reports by detractors has made significant progress with most of its concrete works and bridges nearly completed. Onitsha-Enugu-Port Harcourt dual carriageway a distance of 1664km is due for completion in 2013. 2nd Niger Bridge – N5 Billion has been set aside for commencement of works".
Dr. equally informed that, much ground have been covered in the resuscitation of the erstwhile comatose rail transport system.
In the aviation sector, "22 Airports were earmarked for re modeling and rehabilitation. 11 have been completed and commissioned. Five new terminals in Lagos, Kano, Port Harcourt, Abuja and Enugu as well as 6 Cargo Terminals will begin this year".
He also advanced reasons to show that, youth's unemployment and economic diversification has been done in addition to reviving the entire agricultural sector.
"The cassava component of the Agricultural transformation programme has attracted 600 Billion Naira (about 380 million dollars) into the Nigerian economy from the substitution of bread wheat flour with cassava flour. Nigeria will before the end of this year earn an additional 136 million dollars from export of cassava chips.
"Nigeria is today producing 3.5 million tons of rice locally and will by 2015 meet its total local demand of 5 million tons of the staple. This will save about 300 billion Naira in foreign exchange and create jobs for our local farmers and entrepreneurs, among other innovations.
"It should however be realized that achieving macroeconomic stability is the foundation upon which other economic reforms such as the investment in power sector, infrastructure and development of skilled manpower will be built. However, government, in realization of the need to make the transition period less stressful has initiated socio-economic programmes such as the various youth empowerment, wealth creation initiatives under the SURE-P, NAPEP and other agencies," he said.
As for insecurity, Dr. Okupe insisted that, "in view of the fact that the security agencies have severely weakened the insurgents capacity to do damage, a call for ceasefire has emanated from them. It is clearly untrue therefore to say that government is not on top of security issues in this country."
According to Dr. Okupe, "there is probably no better prove of a leaders commitment to a corruption free Nigeria than what this president has done in the area of exposing corrupt practices and ensuring that culprits are brought to book.
"In conclusion, empirical evidence show that President Goodluck Jonathan, has not only tackled the challenges he inherited, but has successfully solved many of them while those that remain are part of works in progress which, God willing, will be resolved before the end of 2014".
"We want to assure Nigerians that with the undoubted and continued effective implementations of the Transformation Agenda, Nigeria will never ever be the same again. Achievements and competence are always not judged by noise making, propaganda and deception which are the hallmarks of the activities of the Nigerian opposition", he concluded.