Senate To Probe Corpses Dumped In Ezu River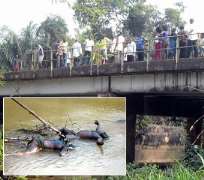 ABUJA, January 31, (THEWILL) – The Senate on Thursday mandated its Committees on Police Affairs and Security and Intelligence to carry out a thorough investigation into the discovery of over 30 dead bodies that comprised mostly of males.
The dead bodies, it could be recalled, were found floating on the Ezu river, in Anambra State.
The resolution was sequel to a motion titled: Strange Dead Bodies found in Ezu River of Anambra State", that was sponsored by Sen. Andy Uba, PDP Anambra South.
Moving the motion, he recalled that in the early hours of Saturday, 19 January, 2013, some villagers of Amansea community in Awka North Local Government Area of Anambra State witnessed horrifying sights when they found about 30 dead bodies floating on the Ezu River.
The Senate, he said, was particularly worried that until this moment, "no explanation has been proffered as to the possible origin of the dead bodies, while the autopsy ordered by the governments of Anambra and Enugu States has yielded no report."
He further noted that the river, which is in the boundary between Anambra and Enugu States is "the only source of water for domestic and other uses for the people of the five communities of Anambra State", a development that has led to its people experiencing "discomfort and hardship".
While contributing to the matter, Senators who spoke on the floor of the upper chamber, condemned the incident in its entirety, saying the absence of explanations over the dead bodies found has severe implications on the reputation of the nation.
In his remark, Senate President David Mark said, "I think it is a very serious thing that no community in this country has reported that they can't find one person; not one community has made a report. Even if the Police is inefficient, even if security agencies are inefficient, the communities themselves or the families themselves, nobody can come to say we can't find our son. It is very disturbing.
"I think the bigger problem is not what happened but, where did these dead bodies come from? I think the river that is flowing, the dead bodies wouldn't have just emerged from nowhere; they would have come from a certain place before they got to where they were eventually found. So it is a bit strange.
"Even if they were in boat that capsized, who are they? So it is strange and we need to be very concerned about it. In addition to that, of course the villagers naturally will be concerned and they may not want to go to the river anymore, but unless we are able to say who these people are, I think there'd be big problem for us in this country. And it is not just about security agencies alone, I think every community in this country now is involved."