Nations Cup: Aim for S/Finals, Beyond, Ekeji Urges Eagles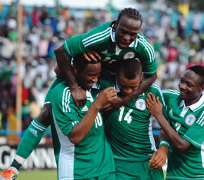 SAN FRANCISCO, January 31, (THEWILL) - The Super Eagles have been urged to strive not to miss scoring chances that will propel them to the semi-final of the ongoing African Cup of Nations in South Africa.
The Super Eagles are currently preparing for their quarter final match with Cote D'Ivoire following their recent victory over Ethiopia .
The Director General of the National Sports Commission (NSC), Chief Patrick Ekeji, gave the admonition, Thursday, while speaking with State House Correspondents in Abuja..
Expressing confidence that the Eagles would play their way to the semi final and even beyond, Ekeji said nothing short of victory would be taken from the Eagles as they clash with Cote d'Ivoire on Sunday.
"I have told our boys that they must play for 90 minutes and I also advised that we need to take our chances. In football, if you have chances, you must take them because the team that takes its own chances and the other side that does not take its own chances, that's what make the difference. So, my attitude is wether a referee is good or bad, let's just win.
"I can assure you that our boys are going to put up a performance that meets the challenge of Cote D'Ivore. In a competition of this nature and at this level, you require a lot of strategic movements because all you need is just one goal to win.
"So, the objective of course is to win. No matter the strategy deployed by the opponent, our strategy is to win and I can assure you that at the end of the match on Sunday, Nigeria will pick the ticket for semi-finals," he said as he advised the technical crew and the players to marshal a fail proof strategy that could guarantee them victory.
According to the NSC boss, "The objective of the first round is to get to the next round.We have moved to the next round without loosing a match. The defending champion did not loose a match but did not qualify. So, that is how these things are. Of course, we want to see elegant football, what matters in football is the number of goals you score to win", Ekeji said.