Mastercard Beats Estimates As Card Payments Grow, Shares Rise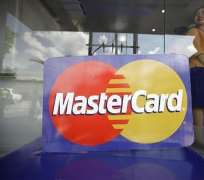 MasterCard Inc's (MA.N) fourth-quarter results topped Wall Street estimates and revenue growth accelerated as more people chose card payments over cash, sending its stock up 4 percent.
The world's second-largest credit and debit card network earned $605 million, or $4.86 per share, in the quarter, up from $19 million, or 15 cents per share, a year earlier.
The company took a $495 million litigation charge in the year-ago quarter.
Fourth-quarter revenue rose 10 percent to $1.9 billion - the fastest it has grown in three quarters.
Analysts on average expected the company to earn $4.81 per share, excluding items, on revenue of $1.89 billion, according to Thomson Reuters I/B/E/S.
Cardholders made $727 billion of purchases worldwide, on a local currency basis, up 13 percent.
"We are pleased with our fourth-quarter results, which saw double-digit growth in net revenue, cross-border volume and processed transactions," Chief Executive Ajay Banga said in a statement.
Growth in businesses outside the United States led the increase in payment volume. Purchase volumes in Asia-Pacific, the Middle East and Africa grew at 19.5 percent, far outpacing the 7.1 percent rise in the United States.
MasterCard has been focusing on boosting its business outside the United States, where purchase volumes have slowed to the lowest level in 6 quarters.
The company is also trying to capture new business from increasing consumer preferences for digital channels over cash, particularly in Africa where mobile payments are gaining popularity.
Shares of the Purchase, New York-based payment network, which has a market value of more than $64 billion, rose 4 percent to $536.10 in premarket trade. They closed at $516 on the New York Stock Exchange on Wednesday.
REUTERS