Police Pension Scam: House Urges EFCC To Appeal N750,000 Fine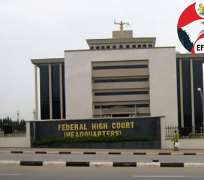 ABUJA, January 31, (THEWILL) - The House of Representatives, Wednesday, urged the Economic and Financial Crimes Commission (EFCC) and the Attorney - General of the Federation to appeal the Federal Capital Territory (FCT) High Court ruling in which a former deputy director with the Police Pension Fund, John Yusuf, was convicted of stealing N32 billion but only given two years jail term with option of only N750,000 fine.
The House also urged the National Assembly to set a machinery in motion to review the provisions of the Penal and Criminal codes to provide stricter punishment for corruption cases.
This resolution emanated from a motion brought by the minority whip, Hon. Samson Osagie (ACN-Edo), and nine others.
Osagie, had in the motion, noted that the judgement could serve as an incentive for public officers entrusted with public fund to commit more acts of corruption.
He said the sentence ought to have been stricter to deter other public officers from meddling with pubIic funds.
According to him, "If we are committed to check corruption in our land, adequate punishment should be handed down to offenders. "
In his submission, Hon. Jerry Manwe ( PDP-Taraba) said the courts are encouraging corruption based on the judgement delivered by the court.
He said that the onus was on the National Assembly as a law making body to look at the relevant sections of the law with the view to amending them.
Also contributing, minority leader, Hon. Femi Gbajabiamila ( ACN-Lagos), submitted that Justice Abubakar Talba abused his discretion in passing that judgement.
He said that the House needed to amend the relevant laws to provide stricter punishments for such offences.
Opposing the motion, Hon. Aliyu Madaki ( PDP- Kano) said that the judge delivered his judgement based on the provisions of the law in respect of the offence committed.
He said that it would be out of place for the House to criticise the judgement without finding out what actually happened.
In his submission, the chairman, committee on FCT, Hon. Emmanuel Jime ( PDP- Benue), said that it was the responsibility of members of the House to sponsor bills to amend the Acts rather than criticising court judgements.
It will be recalled that an Abuja High Court had on January 28 sentenced Yusuf, a deputy director with the Police Pension Fund to two years jail term with an option of N750, 0000 fine.