USING OFFICIAL DELUSION AND EFCC NOISE TO FIGHT CORRUPTION IN NIGERIA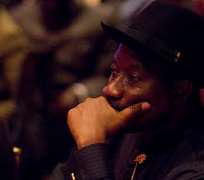 I don't hide my face behind my palms anymore when I watch our president talk, but my jaw betrays my nerves on each new occasion. My jaw droops and drops now each time I hear President Jonathan Goodluck articulates how hard his government is working and how well Nigeria is responding in progress. The last one was his 23Jan13 phone interview with CNN Christiane Amanpour, involving poignant questions on Boko Haram/Northern Mali, official corruption and electricity supply. http://amanpour.blogs.cnn.com/2013/01/23/.
Goodluck repeated his usual public begging for other nations to come and help Nigeria fight Boko Haram using current affairs in Mali as his supporting evidence, dodged the question on corruption altogether but nagged that the world should not have been buying stolen crude from the Nigerian pirates, and made some self congratulatory commentary on his government record with power supply assuring Amanpour that this is an area where majority of Nigerians are giving him kudos. He even managed to look a little ticked off for being asked such questions.
This is consistent with how Jonathan has been scoring himself high grades on his fight against endemic corruption in Nigeria. On 29Dec12, President Goodluck asserted that corruption in Nigeria is not a serious issue, audaciously assuring that a good 80% of what Nigerians consider to be corruption are actually not corruption cases. I have been dismissing these obnoxious claims as the usual primitive Nigerian propaganda, perhaps for masking government incompetence and leadership breakdown. But the frequency and insistence of government on these dubious claims is making my skin turn white in terror. People, are we talking about the same Nigeria? I am scared that the crop of Nigerians who have now morphed into our leadership class may have started to believe these things they say. We say we are worse off, they insist our lot is actually better. What data are they using?
It is tribulation upon calamity for us to have our wretched situation in the country reduced to "we say, they say." Our treacherous political class promised us one million jobs within a year of recovering the fuel subsidy savings from their collaborating oil marketer friends, but we see no jobs 13 months later. They tell us Nigeria is building more cash reserves and is in good standing with its creditors, we tell them their reserves are consigning many more millions of us to early death due to hunger and disease. Goodluck government raised the electricity output to 4500 MW for domestic use by 160 million Nigerian customers and he contends that we are celebrating him. The political elites are essentially telling us that we ordinary Nigerians are deluded about our state of affairs. We are the crazy, they are the sane.
Thank goodness, from Whitehall to White House, the "International Community" is seeing through the chicanery of our feckless leadership group. David Cameron, former UK Prime Minister, recently lashed out in bewilderment at the World Economic Forum in Davos, Switzerland, saying: "The financial revenue Nigeria received for the whole of last year (2012) from the sale of crude oil is more than the total foreign aid the entire sub-Saharan Africa received in that same year. So, where is the money? Where is the improvement in Nigeria?"
Indeed, Nigerians too are asking, where is the improvement that our president insists he sees in Nigeria? Incidentally, my level of disappointment in Goodluck was already quite deep even before I started noticing his style of using false declarations and delusions of grandeur as executive tools to intimidate Nigerians into further silence and poverty. The only Nigerian leader with the most on-the-job training before becoming the president is Jonathan. Goodluck has been hanging around our highest corridors of power and leadership now for a total of 10 years – deputy governor (2 years), governor (2 years), vice president (2 years), acting president (2 years), president (going on 2 years). If anybody was supposed to hit the ground running on the job, it ought to be Jonathan. Yet, he is still seriously confounded and challenged on how to sort, prioritize and tackle our problems in the country. He started off shoeless with the most political credit any Nigerian leader has been given by Nigerians in modern times, but he has frittered it all away on profligacy, emptiness and now tyranny of delusion.
This is probably why government has been moving with the feet of clay against our stranglehold culture of corruption for 4 years now since Goodluck became the acting president. The whole anti-corruption package remains confusing, ancient and unforgivably ineffective. I have observed the Economic and Financial Crimes Commission (EFCC) stepping up news releases on its arrests lately. Hardly a day passes now without some EFCC newsflash – EFCC corners Babalakin in LUTH over corruption, quizzes former presidential aspirant for extortion, arrests 2 undergraduates and four others over internet scam, arrests two over N240,000 illegal cash, arraigns three for forgery, arraigns 23 over oil theft, bemoans Babalakin jumping bail, ad infinitum. You would think that EFCC's prime objective, perhaps even directed by the presidency, is to be seen by Nigerians as doing something instead of recovering our looted wealth and securing long jail terms for the looters.
We hear the news of arrests but we don't know the outcome of majority of the arrests. The few outcomes that we know of offer Nigerians a glimpse of abysmal record of EFCC success rate. Many of EFCC cases have been thrown out of court for missing a document or a step in the court procedure or for inapplicable charges. Of those in its favor, EFCC is only able to recover less than one percent of stolen money, most looters usually pay insulting alternative fines and escape with golden parachutes.
I checked out EFCC website to see what I might have missed, but the same old lame stuff is all I got there. http://www.efccnigeria.org/efcc/. I rummaged through the place to find any usable statistics, but alas, it only says: "information is coming soon…." http://www.efccnigeria.org/efcc/index.php/statistics. Imagine, EFCC does not have statistics to be proud of since about 2003 when it was established. Under the "External Cooperation/EU UNODC Project" tab though, I found that the EFCC received additional EU grant of Euro 24.7 million in 2003 (and since extended twice) which ostensibly forces it to state something about its achievement on the project. There I found the following statement on EFCC performance: "To date, the EFCC has received more than 5000 petitions and achieved more than 400 convictions. Even more impressively, a 6.5 Billion US $ of criminal proceeds have been recovered. At the political level, Nigeria was removed by the FATF from the list of non cooperating countries and territories." There we have what we already know – 8% conviction rate. What a joke we have become to ourselves and to onlooking nations watching us ridiculing ourselves with uncontrollable appetite for wealth like a tipsy baboon in a liquor store.
It occurred to me that the essence and difference between the EFCC and the Independent Corrupt Practices and Other Related Offences Commission (ICPC) may be confusing to most Nigerians and in particular, why the ICPC seems to be always in the shadow of the EFCC. So I checked out the ICPC website. http://icpc.gov.ng/. It turns out, the ICPC is actually the babangida of our corruption fighting machine, as it has a wider mandate to fight all forms of our corruption compared to the EFCC which is focused on financial crimes. Compared to the EFCC which was established "to prevent, investigate, prosecute and penalise economic and financial crimes," the ICPC was established in 2000 with the mission "to rid Nigeria of corruption through lawful enforcement and preventive measures" and the vision to establish "a Nigeria free from all forms of corruption and corrupt practices."
It is condemnable that Nigerians have got nothing out of these two sink-hole agencies that gulp enormous national resources yearly for doing almost nothing over a decade to even scratch the surface of our number one killer disease. These agencies have never prevented any government of the day from doing whatever it likes with damnable impunity. To date, looting of our treasury, killing of opponents, rigging of elections, personalization of state properties and resources, group impoverishment, tyranny of power, etc have progressively gone from bad to worse under successive governments since 1960. It shows that successive Nigerian leaderships might have intended and/or used these agencies as expedient apparatus of power for themselves and smokescreens for the citizens.

Given the enormity of our own brand of corruption, I always wonder how EFCC and ICPC get things done. The poor success rate of their cases probably imply inapplicable and inadequate administrative structure, poor talent pool (prosecuting attorneys, private investigators, forensic scientists, etc), inferior understanding and grasp of the Nigerian constitution and legal system, and horrible coordination and interrelationship with other state institutions (police, SSS, immigration, customs, etc). Being Nigerians, these agencies are probably riddled with our trademark incompetence, ignorance and ethnicity problems. It is perhaps why they have hitherto operated more as sidekicks to the government of the day than as truly independent institutions that function as custodian of our commonwealth and a stakeholder in piloting Nigeria out of primitivity into modernity.
Our type of corruption in Nigeria is out of this world. Many Nigerians now worship money, wealth and cash and would do anything to acquire it at the expense of their souls. The plague of corruption in our society has returned many back to the stone-age evolution when man and animal were not different in how they controlled their basic instincts and desires. Corruption is making us cannibalize our own God given resources, has warped our sense of reason and messed up our criteria for good and evil. The disorder has now completed transmitting down from the top of our leadership pyramid to the base homes of the downtrodden. We are a changed society, headed in the wrong direction that only points to self destruction. We need to reverse our track. If we truly want to fight and tame our corruption, we could consider some of the following ideas:
1. Restructure EFCC and ICPC, for effectiveness. The ICPC mission could be further honed down and re-scoped. Perhaps even more agencies may be established and scoped for additional effectiveness and quicker results. But it may be better to have all anti-corruption agencies (ACAs) under one anti-corruption institution (ACI) umbrella. Otherwise, there should be a mechanism to harness activities of all the ACAs so they don't work at cross purposes.
2. Given the unprecedented size and range of our corruption, I would imagine our ACI to be a huge institution with thousands of employees, top notch technological capability and extensive reach across the globe. This means adequate funding and hiring of adequate and properly trained experts. ACI should be headed by a highly respected, experienced, seasoned and incorruptible citizen. Citizen Gani Fawehimi of blessed memory was one example of such citizenship, but we have more of them still alive. Indeed, all ACI/ACA employees should be held to a very high standard of probity and integrity to avoid conflicts of interests.
3. Funding of ACI does not have to come from the federal budget, a portion of the recovered looted resources (cash, estates, intellectual property, etc) may be used to fund the institution.
4. Establish an adequate level of autonomy for the ACI to enable it do its job. The institution should have the authority to arrest, arraign or charge any citizen at any time without any clause of immunity of being a governor, speaker, senate leader, president, LG chairman, etc, past or present. This means our current all permissive national constitution should be updated and amended.
5. Like all other government institutions that we currently have, our judiciary (state/federal) is mostly useless. Most of the judges are compromised and ought to be arraigned themselves for miscarriage of justice against Nigerians by handing down illogical judgments on many a corruption case. Establish a separate judiciary line for the ACI like it is done for the military institution in advanced countries.
6. Establish a separate ACI military police unit, and similar units within the immigration, customs and SSS to facilitate cross agency supports on official anticorruption assignments.
Written By Qansy Salako
[email protected]

Disclaimer:

"The views/contents expressed in this article are the sole responsibility of

thewillnigeria.com

and do not necessarily reflect those of The Nigerian Voice. The Nigerian Voice will not be responsible or liable for any inaccurate or incorrect statements contained in this article."
Articles by thewillnigeria.com