R.I.P. Research In Motion (RIM) As Company Changes Name To 'BlackBerry'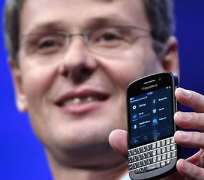 ... Unveils Two New Smart Phones

SAN FRANCISCO, January 30, (THEWILL) - RIM Wednesday unveiled the next generation of BlackBerry smart phones that it hopes would return it to the top of the smart phone market.
The company also showed off two new smart phones and announced at simultaneously events in Toronto, New York, London, Paris, Johannesburg, Jakarta and Dubai that it has dropped its RIM name for 'BlackBerry' from today on.
"From today on, we are BlackBerry everywhere in the world…
"One brand, one promise….

"A good browser, apps, good camera, and fast networking in your smartphone is just expected today.
"BlackBerry 10 goes beyond that with secure communications, and a real-time platform," BlackBerry President and CEO Thorstein Heins who showed off the phones said.
The Blackberry 10 (Z10) goes on sale in Canada next week but no dates have been set for debut in the US.
** Additional information courtesy of Foxbusinessnews