Mass arrests after Nigeria clash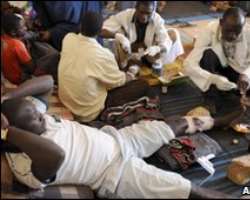 Around 300 people are believed to have died during the violent clashes

More than 300 people suspected of being involved in last week's deadly religious clashes in central Nigeria have been arrested, police have said.
Troops have been ordered to remain at their posts to avoid the army being dragged into the conflict, AFP reports.
Although an exact death toll is not known, 300 or more are thought to have died in the Muslim-Christian clashes.
Scores of bodies have been found in wells near Jos, a city straddling the Christian south and Muslim north.
Of the 300 arrested, almost half have been taken from the central Plateau state to the capital, Abuja, for questioning.
Displaced people
Many of those arrested were previously taken into custody during similar violence in November 2008, a state government spokesman said according to Reuters.
"We are afraid the same situation will occur again. They were moved to Abuja last time, but they were never prosecuted," Plateau state government spokesperson Gregory Yenlong said.
Hundreds of police have been deployed on the streets of Jos to restore order and a curfew imposed on the city has been relaxed to run for 12 hours from 1800 each evening.
The head of Nigeria's armed forces said they had intelligence that some people were trying to infiltrate its ranks.
"We are aware of the fact that there is tension in the country," Lt Gen Abdulrahman Danbazzau said, according to AFP.
"We want to ensure that we control the movement of troops to protect them against people who will try to take advantage of them," he added.
The violence erupted in the city last week, rapidly spreading to nearby villages. Several thousand people remain displaced, having abandoned their homes, fleeing the mobs wielding knives and machetes.
A precise toll is not known though Muslim officials in Jos who spoke to the campaign group Human Rights Watch said 364 Muslims had been killed.
Christian groups say their communities have also been attacked but they have not said how many people were killed.
Jos, the capital of Plateau state, lies at the point where Nigeria's Muslim north and predominantly Christian south meet.
But senior figures in the religious community have said that the real cause of the violence is a struggle for ethnic and political superiority in the city.