House to Probe Oil Bloc Allocation to British Firm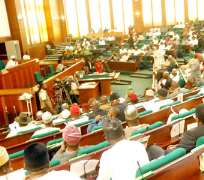 ABUJA, January 29, (THEWILL) - The House of Representatives, Tuesday, mandated its Committee on Petroleum Resources (Upstream), to carry out a full investigation into the sale of Oil Mining Licence, OML 30, under alleged questionable circumstances to a British oil exploring company.
The committee has three weeks to turn in its report.
The decision to probe the deal was the fall out of a motion raised by Hon. Tajudeen Yusuf (PDP, Kogi) under Matters of Urgent National Interest.
The motion was seconded by Hon. Sunday Adepoju, ACN Oyo state.
While presenting the motion, Yusuf said: "Sometime in November 2012, OML 30 located in the western Niger Delta area was sold to Heritage , a company managed by a British National.
"The sale of OML 30 did not factor in the right of Nigerians to know how their common wealth is managed.
"The sale of OML 30 to Heritage Oil, a company, whose chief executive's antecedent is allegedly unsavoury is highy disturbing.
"The past activities of the British owner of Heritage Oil led to prolonged militia operations and political instability in Angola and Equitorial Guinea.
"Nigeria's involvement with a company owned by an individual whose shadowy business ethics is recognised all over the world will raise doubts about the country's quest for growth and development. "
The lawmaker, representing Kabba/Bunu federal constituency, expressed the fears that the chief executive of the oil firm may throw up security threat in the Niger Delta when it eventually begins business in Nigeria given his alleged mercenary antecedents.
Yusuf warned that this "will have adverse effect on Nigeria's revenue, economy, infrastructural and technical development. "
The motion was not debated as Speaker, Hon Aminu Waziri Tambuwal, who presided at the session, ruled that "the motion was a straight one and does not require further debate."
It was therefore referred to the Committee for further legislative duties.