MOTHER AFRICA, SO VIRGIN FOR INVESTMENT,GOV PETER OBI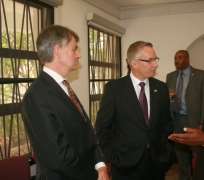 Gov. Peter Obi has described Africa as a virgin land for investment in almost all the sectors of human interest, ranging from ITC to Agriculture, he said this at the Canadian High Commission in Abuja during the meeting with the visiting Canadian Minister of International Trade, Hon. Ed Fast.
Gov. Obi, who explained about Nigeria to the visiting Minister, said that the perception of the country by the outside world is far worse than the realities on ground. He said though things were bad in the past, but that the country, under the leadership of President Goodluck Jonathan was making significant progress in all areas. "President Jonathan took over the reins of government when things had already gone bad, he is striving to correct the anomalies and I can tell you that he is succeeding. The opposition he has today is the by-product of any reform movement, whereby those that benefited from the past being reformed are fighting back."
He assured the Minister that Nigeria is a place that ensures return on investment due to its large market. He also told him about the availability of one natural resources or another largely unexploited in all the States of the federation.
He specifically introduced the Minister to Anambra State , explaining to him the opportunities in the State for investment and trade. "The South-East, which Anambra belongs to boosts of the highest concentration of entrepreneurial people in sub-saharam Africa. Nnewi in Anambra State is the leading industrial town in the country. It is the only place where motor vehicles are manufactured, I mean manufactured, not assembled in the country. The people of the State are ingenious and have the capacity to market products everywhere in the world. Investing among such people is always an instant success as with SABMiller that started operations a few months ago in Anambra State."
The visiting Minister had earlier said that Canada was interested in increasing the volume of trade in Nigeria and investing in the country in the areas of ICT, Health, Education, Oil and gas.
The Canadian High Commissioner to Nigeria, HE, Chris Cooter said in inviting Obi to be one of those to hold meeting with the Minister, that he was convinced of his commitment to Nigeria and to his people of Anambra.
The event was witnessed by the Nigerian Ambassador to Canada, Chief Ojo Maduekwe, the Minister of the federal Capital territory, Sen. Bala Mohammed, Hon. Chris Azubogu, The Anambra State Commissioner for Education, Uju Okonkwo, among others.