Boko Haram Accept To Dialogue With FG, Announces Ceasefire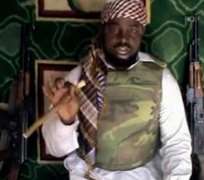 SAN FRANCISCO, January 28, (THEWILL) – The Jama'atul Ahalis Sunna Lida'awati Wal Jihad, popularly known as Boko Haram, Monday, said it has accepted to dialogue with the Federal Government as it agreed to a ceasefire of hostilities with government.
On Monday, two persons claiming to be representing the major faction of the group led by Sheikh Abubakar Shekau stated this during a media briefing they hosted in Maiduguri, the Borno State capital.
The Monday meeting goes down in history as the first time anyone would be coming out in the public to claim association with the group as communication with the media had before now been through emails and teleconferencing.
One of the two representatives, who identified himself as Sheikh Abu Mohammad Abdulazeez Ibn Idris and the Commander in-charge of North and Central Borno of the sect, said the decision to declare a ceasefire came after meetings were held with the Borno State governor, Alhaji Kashim Shettima.
Speaking in Hausa language which was translated during the briefing, Idris said, " I am Sheikh Muhammed Abdulazeez Ibn Idris, the second Commander in charge of southern and northern Borno after Imam Abubakar Shekau of Jamaatul Ahjlil Sunna lidawati wal Jihad, otherwise known as Boko Haram.
" For sometimes now, we the members of Jamaatul ahlil Boko Haram sunna lidawati wal jihad, otherwise known as Boko Haram, have recently had a meeting and dialogue with the government of Borno State where we resolved that giving the prevailing situation, there is the need for us to ceasefire.
"We, on our own, in the top hierarchy of our movement under the leadership of Imam Abubakar Shekau, as well as some of our notable followers, agreed that our brethren in Islam, both women and children are suffering unnecessarily; hence we resolved that we should bring this crisis to an end.
" We therefore call on all those that identify themselves with us and our cause, to from today, lay down their arms.
"Let every member who hears this announcement relay it to the next member who hasn't heard. We have met with the Borno State government on two occasions and the fallout of the meeting is to ceasefire.
"Presently, we are going to comply with the ceasefire order and by the time we are done with that, then government security agencies can go ahead to arrest whoever they find carrying arms or killing under our names."
According to Idris, "We are very much aware of the fact that some criminals have infiltrated our movement and continued attacking and killing people using our name.
"We have also told the government to try to live up to our demands that our members in detention should be released. We hope the government will not betray us this time around, because we all know that it was because of the continued detention of our members that this crisis has continued for this long."
Idris however warned that should the government fails to meet with the terms of the ceasefire, the group will be left with no option than to resume hostilities.
While admitting that the group is factionalised, Idris said "There is a faction within us, but the larger faction of our movement is the one in support of this ceasefire move.
" Moreover, once top members of our group, including Imam Abubakar Shekau, are in support of the need for cease fire, other smaller factions can be dealt with easily.
"This message, by the Grace of Allah, comes directly from the office of Imam Abubakar Shekau, the supreme leader of Jamaatul ahlil Sunna lidawati wal Jihad."
When contacted for confirmation on whether the Borno State governor had been meeting with the sect, the Special Adviser to Governor Kashim Shettima on Media and Communication, Alhaji Isa Umar Gusau, said the governor had always insisted on a dialogue with the group and have always tried to reach out to its leadership.
He however said:" I am just hearing from you that but you will agree with me that the issue is that of national security, I am not competent to speak on national security issues. We have a security council in Borno State, I am not a member of that council and of course, you know as much as you will also agree with me that no governor will speak on such critical security."