Cosmas Maduka's Tenure On Board Expired, Says Access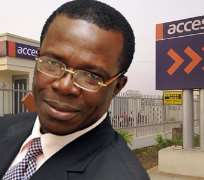 SAN FRANCISCO, January 27, (THEWILL) – The management of Access Bank Plc has debunked news reports in the media that it's former non-Executive Director, Mr. Cosmas Maduka, was fired from the bank's board by the Central Bank of Nigeria (CBN).
In a statement Access Bank said Maduka, who is also Chairman of Coscharis Group, ceased to be a non-executive director of the bank in December 2012 following a CBN policy on Banks' Directors tenure, which stipulates that no Bank Director shall serve more than 12 years.
"Dr. Cosmas Maduka had been on the Board of Access Bank since 2000 and therefore in line with the CBN policy on Banks Directors tenure which stipulates that no Bank Director shall serve more than 12 years, his tenure expired and ceased to be a Director of the Bank effective December 2012 having served meritoriously in that capacity for the maximum period allowed by the Central Bank of Nigeria's (CBN) Policy," the bank said.
Access also announced the appointment of Mr. Ernest Ndukwe into its board as a non-executive director.
The appointment, according to the bank, has been ratified by the bank's board and the CBN.
Ndukwe was a former Chief Executive Officer of the telecommunications regulator, NCC.
The statement was however silent on the N3 million naira penalty it was asked to pay by the CBN for serially violating lending rules which put the bank and its shareholders at risk. 
 

The CBN said the bank contravened its policy which barred banks from lending more than 10% of its paid up capital to directors or their affiliated companies. The CBN named two other board members who were granted such loans as Chairman, Mr. Gbenga Oyebode and oil trader Mr. Tunde Folawiyo.
Mr. Maduka had previously stepped aside as director of the bank following the controversy that surrounded a N34.4 billion sour loan he obtained to finance the importation of petrol in partnership with Ifeanyi Ubah, the CEO of Capital Oil.