Acting Taraba Gov Visits Suntai in Germany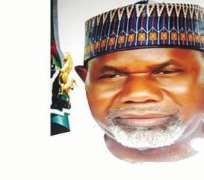 Acting governor of Taraba State, Alhaji Garba Umar Friday night jetted out of the country to Germany on a get-well visit to governor of the State, Mr. Danbaba Suntai.
This is coming just as the state chapter of Conference of Nigeria Political Parties (CNPP) charged the State Commissioner of Information to ensure that citizens of the state are inundated with Suntai's state of health, failure of which it would be compelled to mandate the State House of Assembly to  invoke the provisions of section 189 of the 1999 Constitution as amended.
Suntai was flown to Germany on October 27, 2012 for medical treatment after surviving a plane crash which occurred at Yola on the October 25, 2012 and has remained there since.
This is the first time Alhaji Garba Umar, who was appointed deputy governor by Suntai on October 5, 2012 and was declared acting governor by the State House of Assembly on November 16, 2012 would be visiting Suntai in Germany since he was flown abroad and hospitalised.
On the trip to Germany with the acting governor, who is scheduled to return to the country tomorrow,  are his two wives and former permanent secretary, Government House administration, Mr. Denis O. Nev, who retired from service two weeks ago.
Top government functionaries particularly the Speaker, Taraba State House of Assembly, Hon. Istifanus Gbana; Chief Judge of the state, Justice Josephine Tuktur and Secretary to the State Government (SSG), Ambassador Emmanuel Njiwah, had earlier visited Suntai in Germany and just returned to the country few days back.
Similarly, Plateau State governor, Jonah Jang; Senator Emmanuel Bwacha and People's Democratic Party (PDP) chairman in Taraba State, Hon. Victor Bala Kona,  had also visited the governor in Germany even as pictures taken with Suntai were posted on the internet and published in Nigerian dailies.
But the CNPP in the state has expressed doubts over the genuineness of the  pictures of Suntai, insisting that the pictures were false and a deliberate attempt to mislead the people of the state.
Addressing journalists at the press centre in Jalingo Saturday, State Chairman of CNPP, Alhaji Hamidu Sulaiman,  said a lot of the people of the state have been psychologically and emotionally affected by the governor's accident,  saying the acting governor and the Information Commissioner must come out clearly with the position of the governor's health.
Sulaiman, one time Speaker of the state House of Assembly, lamented that rather than furnish the people of the state, who are genuinely concerned about the governor's accident with his true state of health, what the people of the state have been inundated with by the State Information Commissioner is that the governor is recuperating or  has been doing sports just as he wondered why the governor cannot personally speak to the people of the state if the assertion is true.
All we have been daily inundated with by the Commissioner is that the governor is recuperating, in fact he plays sports, and he wishes Tarabians well. (Thisday)