Ebiwere, Henry Okah's Accomplice Gets Life Sentence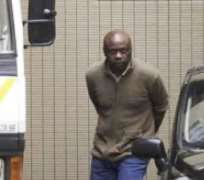 SAN FRANCISCO, January 25, (THEWILL) - Edmond Ebiwere, one of the three persons arraigned for the 50th Independent Anniversary celebration bomb attack which took place on October 1, 2010 at the Eagle Square Abuja, was Friday found guilty of terrorism charges and sentenced to life in prison by a federal high court sitting in Abuja.
Ebiwere was arrested on October 2, 2010 at the Bolingo Hotel by the SSS and was arraigned alongside Charles Okah, brother to Henry Okah, the mastermind of the bomb attack at the Eagle Square Abuja that killed 12 people.
In a three hour judgement delivered by trial Justice Gabriel Kolawale, Edmond Ebiwere was sentenced to life in prison after considering all prosecution witnesses testimony.
According to Justice kolawale, Section 40(b) of the Criminal Code Act provides that any person who become an accessory to treason or become aware of the commission of treason and did not give evidence to the President, a state Governor or a peace officer, in order to prevent the commission of the crime, is liable to treason and sentence to life.
Twelve people, including security officers, lost their lives with many injured as a result of the blast and about Thirty cars completely destroyed beyond recognition to protest the welfare and sharing formula of the Amnesty fund which Henry Okah was not satisfied with.
Recall that Mr. Henry Okah the mastermind of the 50th Independent Anniversary celebration bomb blast on October 1 was found guilty of all charges of terrorism against him by a South African court and sentence to 50 years imprisonment.