Libya's Silence On Oil Deals A Setback For Transparency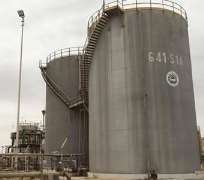 Libya will not reveal the details of its oil sales this year, National Oil Corporation (NOC) officials told Reuters this week, stepping back from pledges to deliver greater transparency after the corruption of the pre-revolutionary regime.
Oil producers commonly keep the details of crude deals secret, yet Libyan officials promised to publish the details of oil deals after over 40 years of secrecy under deposed leader Muammar Gaddafi.
The state firm revealed who would buy Libya's oil in 2012 and began releasing information on prices and volumes of oil shipments on its website - but this lasted just two months, ending in 2011.
Libya's NOC chairman, Nuri Berruien, said any secrecy clauses were introduced at the request of clients, not the NOC, and that most of last year's buyers would continue to purchase its oil.
The state firm would resume publishing details on its yearly activities, he said.
"I have asked them (marketing department) to put all of the activities undertaken last year on the website, like an annual report. I am surprised it is taking this long, but it will be there," Berruien said.
But plans to address past corruption have also halted. The committee the National Transitional Council (NTC) set up in late 2011 to probe Gaddafi-era oil deals made little progress due to the slow handover of documentation, according to one of its members.
That committee was dissolved with the transitional authorities after July elections for the General National Congress and no taskforce has yet been set up in its place to investigate Gaddafi-era oil deals.
Progress on energy sector transparency has stalled, according to Tim Bittiger, a director at the Extractive Industries Transparency Initiative, an NGO that seeks to promote transparency in oil and mining.
"Indications at the moment are not that great. Partners have suggested we wait until there is a new government in place before renewing talks", he said.
The Libyan congress now has its own energy committee, headed by Suleiman Ghjum, which with 15 members plays a supervisory role - which makes recommendations across a range of fields and has plans to investigate corruption.
"We should look at all the contracts that look suspicious," a member of the GNC energy committee told Reuters last month.
He said he wanted to meet with members of the now dissolved NTC committee to talk about their work.
OIL BUYERS
Details on the identities of Libya's oil buyers this year have emerged through a survey of traders who were customers last year, but many are reluctant to disclose the volumes they have been allocated, or say that details are still being finalized.
Last year, the NOC provided a breakdown on allocations, revealing that trading houses had won around 9 percent of Libya's full pre-war exports of 1.3 million barrels per day.
This was a break from a policy of restricting sales to refiners, although many, like Italy's Saras, remained the biggest customers.
"All the allocations have been awarded, but we have restrictions because some clients didn't like being named last year," the NOC source said, adding that confidentiality clauses had been written into the contracts.
A survey of oil traders revealed that Italian refiners Eni and Saras would receive volumes similar to last year, while Spain's Repsol would take the same or slightly more.
China's Unipec, which was allocated a "good share" last year according to the NOC at the time, was expected to increase its take to 6-7 shipments per month, equivalent to just over 100,000 barrels of oil per day (bpd).
Details on allocations to trading houses had yet to emerge. However, an industry source said Glencore, which took the largest volume awarded to traders last year, would purchase cargoes on the spot market rather than under contract.
"We need to give the industry (and people within the industry) time to break from the company culture that was in place under Gaddafi, during which period anyone breaking protocol or standing out from the crowd stood to be severely punished," said Zara Rahman, research associate at energy consultancy OpenOil.
"Changing that company culture won't happen immediately; it was in place for over 40 years."
Rahman said the decision to keep the identity of this year's crude oil buyers secret may also be linked to unrest that at times over recent months brought parts of the industry to a standstill.
"It's unlikely, what with various strikes and upheavals in the industry as we've seen over the past few months, that anyone in mid or higher level management would stick their neck out," Rahman said.
"I would suggest that this could simply be a return to pre-revolution protocol for want of a new protocol to follow."
The page on the NOC's website providing details on its oil deals remained available.
"In the wake of the great success of the glorious 17th Feb revolution, NOC has adopted the principle of transparency," the state oil firm said on its website.
Below, there is a list of the names of firms that had registered for crude oil tenders and two months' worth of details on shipment prices and volumes.
REUTERS