Haiti rescuers pull man alive from rubble after 11 days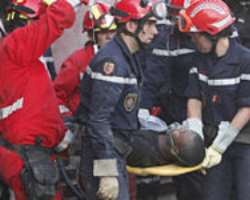 Richard after he was pulled out from the rubble

A 23-year-old man has been pulled alive from the rubble of a ruined hotel in Haiti's capital Port-au-Prince, 11 days after the earthquake.
His rescue came as the official search for earthquake survivors in the country was declared over.
He was carried on a stretcher from the Napoli Inn Hotel.
Haitians and rescuers cheered as the man, seen to be smiling, was taken towards a waiting ambulance, the BBC's Adam Mynott reports from the scene.
Earlier, Haiti's government said search-and-rescue operations had ended.
UN spokeswoman Elizabeth Byrs in Geneva said the decision was "heartbreaking" but that it had been taken on the advice of experts.
She said most search-and-rescue teams would now be leaving Haiti, although some with heavy lifting equipment might stay to help with the clean-up operation and with aid distribution.
Rescuers said the man found on Saturday appeared to be in good condition, but was thirsty.
The operation to extricate him lasted about two-and-a-half hours.
The man, whose first name is Richmond, smiled as he was pulled free but did not speak.
A French rescue worker, Lt Col Arnaud, described the man's survival as "a miracle".
He said rescuers - who had been alerted by the man's relatives - had managed to get water to him while they worked to dig him out.
Lt Col Arnaud said the man must have had access to some water in the past 11 days and had probably been helped by the fact that the 5-6m (16-20ft) of debris above him was largely wood, rather than concrete.
He said the man had told his rescuers another four people were trapped with him but that they had stopped moving a couple of days ago. Rescuers are now searching for any other signs of life.
Drank his own urine
Two people, an 84-year-old woman and a 21-year-old man, were pulled alive from the rubble in Port-au-Prince on Friday.
The woman, who was found in the wreckage of her home seriously injured and severely dehydrated, was taken to the main city hospital for treatment.
The 21-year-old man, Emmannuel Buso, was rescued by an Israeli search team and is said to be in a stable condition.
Speaking from his hospital bed, he described how he had had no food, and had drunk his own urine to keep thirst at bay.
More than 1,000 mourners gathered on Saturday by Port-au-Prince's shattered Roman Catholic Cathedral for the funeral of Haiti's Archbishop Joseph Serge Miot and a vicar, Charles Benoit.
President Rene Preval attended the service, joined by New York Archbishop Timothy Dolan and the Vatican's ambassador to Haiti.
Few funeral services have been held in Haiti for those killed by the quake.
At least 75,000 bodies have so far been buried in mass graves, Haiti's government has said. Many more remain uncollected in the streets.
An estimated 1.5 million people were left homeless by the 7.0-magnitude quake, which some have estimated has killed as many as 200,000 people.
The UN says 130,000 people have now been relocated out of Port-au-Prince, easing the pressure on overcrowded camps in the city.
The BBC has started a new radio service in Creole, one of the country's main languages.
The 20-minute long daily broadcast, called Connexion Haiti, will try to give people up-to-date information about the basic services they need to survive - such as where to find food, clean drinking water, medical assistance and shelter.