Wall Street Opens Lower After Apple Results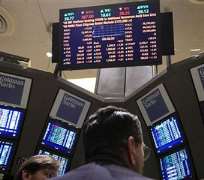 Stocks opened lower on Thursday, a day after Apple Inc (AAPL.O) reported revenue that missed expectations, tanking the stock and weighing on technology shares.
As the most valuable U.S. company and a heavy weight in both the S&P 500 and Nasdaq 100 .NDX, a decline in Apple shares has an outsized impact on the broader market. Apple dropped 10.5 percent to $459.84 in early trading.
The Dow Jones industrial average .DJI was up 21.73 points, or 0.16 percent, at 13,801.06. The Standard & Poor's 500 Index .SPX was down 2.16 points, or 0.14 percent, at 1,492.65. The Nasdaq Composite Index .IXIC was down 24.98 points, or 0.79 percent, at 3,128.69.
REUTERS