Verizon Wireless Profit Margin Disappoints, Shares Off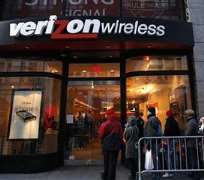 U.S. telecommunications group Verizon Communications Inc on Tuesday posted weaker-than-expected wireless operating profit margin due to hefty costs from the sale of smartphones like Apple's iPhone.
Its shares fell about 2 percent in early trade after Verizon reported that charges from pension liabilities and costs from Superstorm Sandy also led the telephone company to post a massive net loss in the fourth quarter.
Verizon Wireless, its mobile venture with Vodafone Group Plc, posted a profit margin of 41.4 percent based on earnings before interest, taxes, depreciation and amortization, compared with 42.2 percent in the year-ago quarter.
This was likely due to higher-than-expected subsidies paid to smartphone makers like Apple Inc so Verizon could offer a phone discount to customers who sign a long-term contract.
"Handset subsidies on the wireless side is clearly a major issue for them," said Stifel Nicolaus analyst Christopher King, who expected a margin of 42 percent. "They came in at the low end of people's expectations."
The fourth quarter net loss attributable to Verizon widened to $4.23 billion, or $1.48 per share, from $2.02 billion, or 71 cents per share in the year-ago quarter.
Excluding unusual items such as the charge from Sandy and its pension liabilities, it would have earned 38 cents per share, well below Wall Street expectations of 50 cents per share, according to Thomson Reuters I/B/E/S.
Operating revenue rose 4.5 percent to $30.05 billion and compared with expectations of $29.83 billion, according to Thomson Reuters I/B/E/S.
Wireless services revenue in the quarter grew 8.5 percent to $16.4 billion, while retail service revenue jumped 8.4 percent to $15.8 billion.
Capital spending for the year was $16.2 billion, including $135 million related to Sandy recovery efforts, and was in line with 2011 spending.
Verizon posted results ahead of its biggest rivals AT&T Inc, which reports on January 24 and Sprint Nextel Corp, due in February.
Verizon shares fell to $41.70 in premarket trade after closing at $42.54 in regular New York Stock Exchange trade.
REUTERS