Senators Get Number To Force Motion On Yar'Adua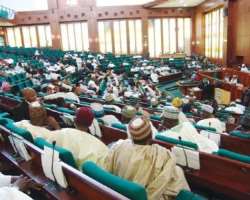 San Francisco Jan 19, (THEWILL) – Senators pushing to force the Senate to compel President Umaru Musa Yar'Adua to formally write the National Assembly to allow Vice President Goodluck Jonathan assume full presidential powers have succeeded in getting the signatures of 70 senators required to force a debate in the Senate.
A National Assembly source told THEWILL that as at Monday, the group had 60 signatures but succeeded in getting 10 additional signatures in the chamber on Tuesday, bringing their number to 70. There are 109 senators in the Senate.
With this development, all is now set to debate the President's absence from the country for more than 57 days without any formal communication to the leadership of the National Assembly.
The group of aggrieved senators we gather have agreed to hear out the Secretary to the Government of the Federation, Alhaji Yayale Ahmed who will brief the senators on the President's condition on Thursday, before they force a debate.
THEWILL has not been able to independently confirm reports that some senators in the group are even pushing for an impeachment of the President if the fails to send a letter to the National Assembly.
However, there have been calls for the President to transfer power to the Vice President to enable him fully exercise presidential authority.
The leadership of the National Assembly has been criticized for the manner in which it has handled the President's obvious disregard for the Constitution.
Umaru Yar'Adua was evacuated from the nation's capital on November 23, 2009 to the King Faisal hospital in Jeddah. He is known to have suffered from heart and kidney conditions.
|
Article source