Bayelsa Accuse Disgruntled Politicians Of Sponsoring Abductions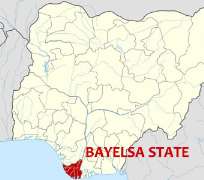 SAN FRANCISCO, January 21, (THEWILL) – The Bayelsa State Government Monday accused disgruntled politicians of orchestrating the abduction of residents in order to promote insecurity and to scare investors from doing business in the state.
A statement signed by the Chief Press Secretary to the Governor of Bayelsa State, Daniel Iworiso-Markson, warned the "failed politicians working hard behind the scene with some forces to abduct innocent citizens" to be ready to face the full weight of the law.
The full text of the statement reads, "From the facts at our disposal, it is clear that some failed politicians, especially the arrow heads of those who have lost out in the power equation in the state, are working hard behind the scene with some forces outside the state to sponsor kidnapping of innocent citizens in Bayelsa State.
"Their aim is not only to scare away investors and stall development, but also to make the state ungovernable and to give the impression that the government of the day is incapable of securing the lives and property of citizens.
"The Government of Hon. Henry Dickson has not only given top priority to security, it has also shown enough political will in protecting lives and property in the state.
"Indeed, it is clear to all that this Government has been able to turn around Bayelsa State from a haven of cultism, violence and criminality to a State that is clearly adjudged as one of the most peaceful and stable states in the Country.
"The passage of the enabling law by government titled: BAYELSA STATE SECRET CULT, KIDNAPPING AND SIMILAR OFFENCES PROHIBITION LAW 2012, which makes it possible to effectively prosecute criminals who run foul of this law.
"To this end, the Government of Bayelsa State wishes to sound a clear note of warning to anyone who runs, intends or is induced to run foul of this law.
"The law will run its full course on any one or group of persons involved, directly or indirectly in crime and criminality in line with the provisions of the law irrespective of their status.
"Let it be stated for the umpteenth time that there will be no sacred cows in the enforcement of law and order. The era of playing politics with security matters are gone for good and shall remain so.
"Government will sustain its zero tolerance on violence and criminality and even more vigorously this year and beyond. Government enjoins all law- abiding Bayelsans to be vigilant and report any act of crime and criminality to law enforcement agencies.
"Government also urges the youths to redirect their energies towards meaningful ventures and take advantage of the free and compulsory education policy of Government to acquire further education and useful skills instead of allowing themselves to be used as tools for crime and criminality.
"Parents are also called upon to re-orientate their children and wards on the dangers of cultism, kidnapping and all forms of criminality.
"This is a new Bayelsa and disgruntled politicians who think they can play politics with our collective security as a people should be ready to face the full wrath of the law.
"Government however wishes to assure law-abiding citizens of their safety and urges them to go about their lawful businesses without fear because all necessary measures have been taken to ensure that Bayelsa State remains safe for all persons who reside in it, including those who come from far and near to do their genuine businesses.
"Government wishes to state categorically that there is NO room for criminals and we will certainly make the environment extremely uncomfortable for them and their sponsors."