Governors Stealing Allocation For LGAs - House Of Reps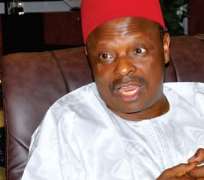 … Demand Full Autonomy.

ABUJA, January 21, (THEWILL) - The House of Representatives Monday accused Nigerian state governors of cornering funds meant for the development of local government areas insisting that only autonomy for both state Assemblies and local governments would save Nigeria from the thieving state chief executives.
Chairman of the House committee on media and public affairs, Hon. Zakari Mohammed, who made the allegation while reacting to an earlier interview granted by Kano state governor, Rabiu Musa Kwankwaso, in which he carpeted the National Assembly for being a drain on the national treasury, said the governors have become demi gods running state assemblies and local councils aground.
Mohammed who canvassed the Rep's position in a press statement said, "if the state legislature is independent as its being proposed, it would give our teaming electorates a voice, not the situation that keeps the governors as emperors of their various enclave".
Part of the statement reads, "Our attention has been drawn to a recent media interview where the governor of Kano, Rabiu Musa Kwankwaso, gave a lot of misleading conceptions about the 7th house of representatives stand on local government autonomy, independence of the state legislature and constituency projects among so many other issues.
"The issue of local government autonomy as far as Nigerians are concerned is long over due, arising from our people public session as true representatives of the people, our constituent do not agree with the current status where local government funds are being pilfered by governors including Governor Kwankwaso at the expense of the people and chairmen who are seen as mere boys for the job.
"I challenge the Kano state governor to tell people of his state and Nigerians how these funds are managed in Kano since he came to office. We would certainly not accept a situation where governors turn themselves as Demi Gods in the name of joint account.
"It is only in Nigeria that an elected governor of a state would speak to the media frontally eroding democratic ideals of which he is a beneficiary. It is saddening to note that LGS elections have not been held in some states since 1999, wondering what sort of government states are running.
The House of Representatives never hid its resolve for true federalism where the federal, states and local governments would function as federating unit for the benefits of the Nigeria people. The current unitary federalism that is being propagated by him and his colleagues is responsible for the high number of anti graft cases against Governors on corruption.
"Why is he (Kwankwaso) afraid of the legislatures being independent in the state?
The recent outburst is seriously calling to question the integrity of a lot of men who masquerade themselves as state chief executives, a lot of state assemblies are an extension of the state executive council, where speakers and the house leadership permanently go cap in hand to the governors for their needs….
"These monies (constituency project funds) being spent to improve the lives of our teaming populace is not up to the ones he and his co travelers squander in the name of security votes or where do governors get funds to massage their flamboyant lifestyles of flying private jets for themselves and their family members.
"I invite him to a popularity stroll with my Speaker, Rt. Hon Aminu Waziri Tambuwal and he would see who Nigerian people will applaud… "
Recall that Kwankwaso had in an interview with The Guardian on Saturday commented on a number of issues concerning the National Assembly including the ridiculous jumbo allowances the lawmakers voted for themselves.
He also canvassed against autonomy for state legislature and local government councils.