EFCC Arrests Fake Official ...Recovers 5 SUVs, documents from suspect.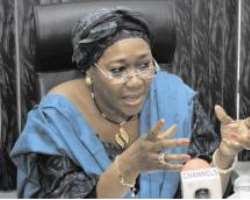 The intensive manhunt for suspected fake officials of the Economic and Financial Crimes Commission, EFCC has continued to yield positive results as operatives swooped on yet another top notcher of the syndicate which specializes in using the name of the anti- graft agency to extort money from unsuspecting members of the public. The latest arrest is coming on the heels of the parade of two secondary school leavers who were trying to use the name of the Commission to extort N15 million from a PDP chieftain.
The arrest of Chief Victor Ositah Uwajeh in his Wuse II Abuja residence on Wednesday January 13, 2010 followed an intelligence report which indicates that he was parading himself as a staff of the EFCC and using his fake identity to defraud members of the public.
A team of operatives was subsequently mandated to trail and arrest him after a discreet investigation confirmed the initial report.
The search for Uwajeh however, led to his arrest on the 13th January in his Wuse II residence where a search warrant was executed, leading to the recovery of incriminating items.
Some of the items recovered from the suspect's house include a pack of complimentary cards with EFCC's logo and address bearing the suspect's name, fake EFCC letter head papers, a petition with EFCC acknowledgement stamp, five assorted vehicles including a hummer jeep, Honda jeep, Toyota Land cruiser Jeep and a Hilux jeep.
The suspect's trick leaked following his attempt to use the name of the Commission to extort two million dollars from a suspect being prosecuted by the EFCC.
In view of this, the Commission wishes to implore members of the public who must have fallen victims of Uwajeh's tricks to come forward with useful information that will help the EFCC in its investigation and prosecution of the suspect.
While the suspect is still being detained on a court order pending his formal arraignment in court, the Commission will also like to emphasize that it does not take money from individuals or organizations before their cases are investigated just as it will not do same to favour any party in a case. Claims by these elements to represent top officials of the Commission in their bid to negotiate fees are equally fraudulent and should be reported to the Chairman of the EFCC.
Members of the public are therefore urged to resist giving money to anyone who claims to represent the EFCC over any matter and should immediately report any demand for money or suspected illegal activity to the Chairman of the Commission.
|
Article source