Alleged N62 Billion Loot: NURTW, Women, Youth Groups Demand Ohakim's Arrest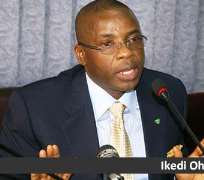 Few days after the report of Imo state Account Reconciliation from June 2007 to May 2011 uncovering a N62 billion naira fraud by the past administration under ex-governor, Ikedi Ohakim was made public, members of National Union of Road Transport Workers (NURTW), women and youth groups have staged a peaceful protest in Owerri demanding for the immediate arrest of the former governor by the Economic and Financial crimes Commission (EFCC).
The groups admitted the failure of the past administration under Ohakim and bemoaned the massive fraud and corruption by Ohakim and some chieftains of the Peoples Democratic Party (PDP).
Speaking on behalf of the NURTW in the state at Government House by Gov. Rochas Okorocha, the chairman, Comrade Chukwuemeka Obuh said it regretted that someone would spend years as governor of a state without any visible project to speak for the administration.
He called for the confiscation of the properties acquired by Ohakim and his partners in crime with the looted funds.
Comrade Obuh said the union will not hesitate to ground movement in the state by shutting down all motor parks if EFCC fails to arrest Ohakim within 21 days.
Also speaking on behalf of women in the state, Tina Abike said Ohakim's arrest is long overdue considering the massive fraud and corruption that characterized his administration.
She warned against moves to shield Ohakim from facing the full wrath of the law, adding that women in the state will consider going naked if EFCC continues to delay the arrest of the former governor.
On the same vein, Comrade Okereke Emmanuel Ike said Imo youth will support every move by the Okorocha led administration to recover all funds stolen by Ohakim and cohorts.
He wondered why EFCC is still foot-dragging in arresting the former governor whose fraudulent activities in government is quite alarming.
Okorocha in his response urged them not to take laws into their hands as government has implicit confidence in EFCC and other anti-graft agencies to bring the former governor to book.
He reassured that his administration will ensure that funds looted within the period by the former governor will be recovered for further development of the state.
The governor reiterated that his administration will remain focused in the ongoing transformation of the state as well as deliver on his electoral promises.