Syrian Opposition In New Search For Transitional Government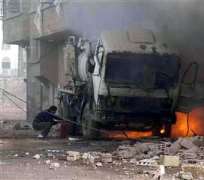 Syria's opposition leaders on Saturday launched their second bid to form a transitional government, with their credibility at stake as the country slides deeper into civil war.
Agreement among the National Coalition, an umbrella group for the Syrian opposition, could help address international concern about the risk of Syria disintegrating along ethnic and sectarian lines if President Bashar al-Assad falls.
Failure at the talks, being held in an Istanbul hotel, would highlight divisions in the coalition, formed with Western and Gulf backing in Qatar two months ago, and undermine that support.
Leading opposition campaigner Kamal al-Labwani, a member of the coalition, said the group needed at least to name a prime minister to maintain credibility as a democratic alternative to four decades of family rule by Assad and his late father, President Hafez al-Assad.
"The coalition is a legislature and we need an executive. There have been lots of mistakes and the people we are supposed to represent inside feel marginalized," said Labwani, one of a minority of liberal figures in the Islamist-dominated coalition.
The United Nations says 60,000 people have been killed in Syria's 22-month conflict. A collapse of the country could draw in rival powers in a region where the Sunni-Shi'ite faultline has been deepening since the Arab Spring revolts began in Tunisia two years ago, toppling dictators in four Arab countries and ushering in Islamist political ascendancy.
The rise of jihadist rebels in the last few months as a dominant force in the armed opposition, and the possibility of a massive backlash by the Sunni majority against Assad's Alawite minority, has made international powers hold back from supporting the increasingly radicalized, mostly Sunni rebels.
LATEST MASSACRE
Assad's forces massacred over 100 Sunni men, women and children when they overran an opposition-held district in the central city of Homs on Tuesday, according to opposition campaigners.
The killing occurred around the same time a disputed attack killed and wounded dozens of people at Aleppo University, a hotbed of peaceful demonstrations at the start of the revolt.
With diminishing prospects for a deal to remove Assad, any prime minister named by the coalition would have to be acceptable to rebels who have been making incremental gains on the ground despite massive air and artillery bombardment.
Naming a transitional government was part of the original agreement under which the coalition was formed last year.
But some in the opposition have grown wary since, fearing that Western powers were influencing the process to come up with a government that would negotiate with Assad and keep the minority-ruled police state intact, according to various opposition sources.
The powerful Muslim Brotherhood, the only organized political force in the opposition, is largely against forming a government at present, although Arab and Western-backed members of the coalition want one, the sources said.
The 70-member coalition was formed with Western and Gulf backing in Qatar at the beginning of December. Power struggles swiftly emerged among its members, contributing to failed efforts to agree on a transitional government.
Labwani, a respected former political prisoner, said a transitional government would not negotiate any deal that kept Assad in power. He said he would nominate former Prime Minister Riad Hijab, the highest-ranking official to defect since the revolt, to be the next transitional premier.
Labwani dismissed concerns among the opposition that Hijab had served Assad.
"I am not sure what the problem is. Hijab is qualified and is now serving the revolution. We have already hundreds of defectors in the Free Syrian army," he said.
Another possible contender is Asaad Mustafa, who left Syria after a stint as agriculture minister under Hafez al-Assad.
But coalition member Abdul Ahad Astephoa, one of three Christians in the group, said there were larger issues to be resolved first.
"We have already received many promises that once we unite we will get international support. Very little came and the international community, sadly, is not ready to end the Assad regime," Astephoa said.
"If we form a government we have to make sure first it will receive international recognition, have enough financing and be able to operate in the liberated areas of Syria," he added.
REUTERS