Abducted Britons and Colombian freed in Nigeria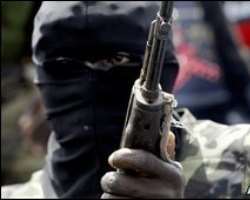 Militants say they are fighting for the rights of local people
Three Britons and a Colombian kidnapped last week in Nigeria's Delta region have been freed, local police say.
Gunmen snatched the group, who were working for oil giant Shell, near the city of Port Harcourt last Tuesday, killing a Nigerian guard.
A police spokeswoman told AFP news agency all four were "looking okay" but did not say if a ransom had been paid.
The oil-producing region is notorious for kidnappings by militants, who demand a greater share of its wealth.
But the Delta has been relatively calm since most major militant groups agreed to lay down their arms last year after the government offered an amnesty.
Shot dead
"All kidnapped victims - the three Britons and the Colombian - have been released this evening," Nigerian police spokeswoman Rita Abbey was quoted as saying by AFP.
The four workers have not been identified.
They were attacked by unidentified gunmen last Tuesday morning as they made their way to work at a power plant, police said.
Their police escort was shot dead and the driver was also believed to have been shot.
A police search in and around the town of Aba, some 30 miles (50km) north-east of Port Harcourt, followed.
At the time, Shell expressed concern for the safety of its contractor staff.
The Foreign Office said it was aware of the reports the men had been freed and was making inquiries.
The gunmen had reportedly demanded nearly $2m (£1.2m) for the release of the foreigners.
This was the first violent attack on foreigners in the region for many months.
Militants in the Niger Delta have cost Nigeria's oil industry millions of dollars over the years.
A variety of groups have claimed to be fighting for the rights of local people to gain a greater share of the region's wealth.
But in reality, many of the groups have stolen oil from pipelines and extracted ransoms from kidnaps, using the money to arm themselves and finance more attacks.