Jonathan's Surprise Visit Rattles Ikeja Police College Commandant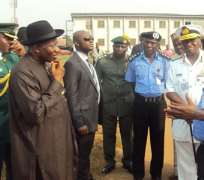 The police authorities were in shock last night after an angry President Goodluck Jonathan stormed out of the Police College, Ikeja, Lagos during an unexpected visit to personally assess the rot at the college.
The President's visit was provoked by a weeklong expose by the Lagos –based Channels Television on the dehumanising conditions trainee policemen go through in the college.
President Jonathan, who was on his way to Abidjan, Cote d'Ivoire for a meeting of ECOWAS leaders on the insurgency in Mali, was as embarrassed by what he saw as the inability of the Commandant of the institution, Police Commissioner I.F.Yerima, to answer any of the four questions he asked the police officer.
The President and his entourage, including the Assistant Inspector General of Police (AIG) Zone Two, Mamman Tsafe, and the Lagos State Commissioner of Police, Umar Manko, drove into the college at about 3pm and parked in front of the Sports Store.
From there,he walked to the hostels. He also inspected the women's hostels,the kitchen, the dining halls facing the parade field and the officers' mess.
Security was tight with armed soldiers and policemen deployed in strategic places in the college.
As he left the mess to enter his car, he suddenly paused and faced CP Yerima to ask him a few questions.
By now, a crowd had gathered struggling to see the President and were at the same time hailing him.
He waved to them to acknowledge their greetings.
Then came the first question for the College Commandant: How was Channels TV able to penetrate and record the mess without detection?
The CP had no answer.
The second question followed: When was the recording done. Again there was no answer.
The Commandant turned to his deputy and other senior officers to assist him in answering the President's questions, but none was able to help him out.
The President then quipped: "This is a calculated attempt to damage the image of the government, as the college is not the only training institution in the country."
He soon entered his car and left.
After the President's departure, the college Commandant met briefly with his officers before he too took his leave.
Senior officers later gathered in groups to review the visit.
Some of policemen in the college who pleaded for anonymity were happy at the President's visit which they said would help in reversing the fortunes of the college.
They called for the probe of the trainees' welfare in the last five years.
Source: THE NATION