Dame Jonathan May Return from Germany Next Week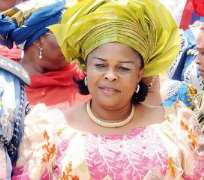 SAN FRANCISCO, January 18, (THEWILL) – The First Lady, Dame Patience Jonathan, may, next week, return to the country from Germany where she is currently undergoing medical treatment for an undisclosed illness.
Sources at the Presidency told THEWILL that Dame Jonathan is being expected back in the country to enable her rest and properly prepare for the 12th meeting of the Organisation of African First Ladies Against HIV/AIDS (OAFLA),scheduled to hold in Addis Ababa, the Ethiopian capital.
Dame Jonathan is expected to join her husband on the trip to Addis Ababa during which President Goodluck Jonathan will attend the 20th Ordinary Session of the Assembly of Heads of States and Governments slated for January 27-28, while she'll participate in the anti-HIV/AIDS conference.
THEWILL recalls that last year, the First Lady was unanimously re-elected President of the African First Ladies Peace Mission (AFLPM), for the next two years at the end of a conference held in Abuja.
But since she took over the mantle of leadership of the First Ladies conference, Dame Jonathan has not been able to perform her statutory functions due to her illness as she was hospitalised at the Horst Schmidt Klinik in Wiesbaden, Germany.
Only last last week, she embarked on a second trip to the same hospital in compliance with doctors' order for a routine check up.