Heavy Security At Nigeria Demo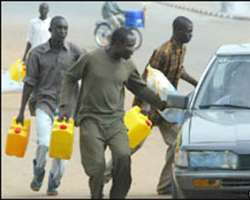 Nigerian An anti-government march through the Nigerian city of Lagos has begun amidst heavy police presence. Thousands have come out onto the streets against rising fuel prices, low minimum wages and the slow process of electoral reform.
Armoured cars have been stationed on the route and are following the march.
The Nigeria Labour Congress (NLC) says there will be further rallies around the country if the government does not meet its demands.
The government has said the protests may be used "to cause chaos", urging the NLC to return to negotiations.
The BBC's Fidelis Mbah, following the protestors on their route, says the march is swelling as they pick up more people on the way.
"Commercial drivers, and motorcycle taxi operators are leaving their work and joining the protest," he said.
At every corner there are armed police, and at least four armoured cars are following the demonstration, our correspondent says.
Minimum demands
The NLC says further protests are planned for the southern Delta state and cities in the north over the next 10 days, before a second phase of demonstration throughout the country.
"We are determined to carry these protests to all nooks and crannies of the country," said NLC president Abdulwaheed Omar. "We are not afraid of the government."
The NLC wants the government to scrap its plans aimed at deregulating the oil sector, saying the move would lead to further fuel shortages and push up pump prices.
Nigeria imports some 85% of its oil petroleum product needs, despite being the world's biggest crude oil exporter.
The NLC is also demanding higher minimum wages, currently about $38 (£25) per month, and electoral reforms to avoid a repeat of what it calls flawed polls in the past.