ISOKO NATION: A WAKE UP CALL FOR REVOLUTION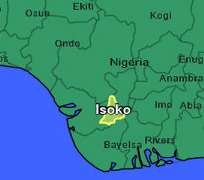 Despite that Isoko nation is the third largest ethnic group in Delta State and second region to discover oil and gas in 1958 after oil was first discovered in commercial quantity in Nigeria in 1956 near Oloibiri, Rivers State, yet the region has being totally relegated to the background. In the time past, Isoko, Itsekeri and Ijaw were vigorously agitated for Coast State which Warri was sited as the headquarters of the State but such effort could not see the light of the day as a result of some political powers that be in the state. One of the problems presently confronting Isoko is inability for government to organize youth enlightenment programmes that would help to build intellectual structure in the region than sponsored violence by some unscrupulous and devious politicians in the land.
On 27th December 2012, one dynamic and energetic young Ivrogbo- Irri man, Jerome Edafe Asedegbega, the youngest son of Odiologbo of the community organized a well- attended youth educative programme which was tagged as "Erudite forum group" to enlighten the community youth on educational development in all ramifications which the Crème de la Crème of sons and daughters of the community were there to contribute their creative ideals to make Ivrogbo youth to be sought after in the nearest future. This programme brought out the total darkness of Ivrogbo youths to see the light of education and nothing more. Political or economic revolution can begin if all Isoko youths are well- informed in terms of educational orientation and not to be used by one dubious politician as thugs or distraught messengers in the region.
Sadly, Isoko nation only has two local governments, Isoko south and Isoko North with population of about 3 million people with 19 clans and over 40 villages, there is no presence of government development in the region. Some Isoko communities are fast becoming troubled areas due to oil and gas business that some community leaders and elders now see it as a political business and nothing else. Uzere community in Isoko South Local Government Area has been known for oil brawl over the years despite high-flying sons and daughters that come from the community.
Some Isoko educative youths have decided to draw the attention of Dr Emmanuel Uduaghan of Delta state to construct some of derelict projects by preceding governments in the region.Umeh road is one of the projects of Uduaghan led- government that has given full attention to without dithering through the social media with the support of one prominent lawyer of Umeh community and others.
Since Isoko division was created in 1963 out of then Western region and Delta state in 1991 precisely, Isoko nation is totally marginalized by powers that be. Over 100 oil wells and gas flaring stations are sited in Isoko region, yet some unscrupulous politicians and individuals have decided to take the region to the cleaners through their sponsored violence in the region. Uzere community has been in conflict over leadership tussle among traditional rulers and others. Isoko community is into farming, fishing and trading while its land space is 1724 kilometers square and located in upland. Isoko people are industrious to the core. Though Delta state belongs to one entity, yet unity is not binded as a result of ethnic conflagration in the region over the years.
Some Isoko people have contributed largely to the developmental progress of Isoko region in likes of Hon Dickson Ebegbare, Otunba Isaac Emiyede, Engr Johnny Onozefe, Engr Solomon Okpithe, Prince Frank Egbodo,Dr Ben Obi,Hon Benjamin Essien,Chief Gregory Akpojene(MON) Hon Macaulay Ovuzourie and others. These people have used their personal resources to grow the vision of Isoko nation in one way or the other. Isoko nation is known for political appointments than contesting for positions of government in the state. The likes Chief John Kpokpogri and Prof Salib Umukoro that contested under the PDP in 2011 as governorship aspirants which many hopes thought Isoko son will emerge as a governor, but politically betrayed Isoko region for monetary benefits. No Isoko man or woman has held sensitive political position in the federal level except state where Uduaghan appointed some Isoko sons and daughters in key position of his administration. IDU and other leadership bodies are in mute and not ready to build formidable leadership in Isoko land.
Comparison must be aborted out of Isoko leaders in the region.
Even the Anioma people are strongly agitating for governorship in 2015 and their own state creation while Isoko region still waiting for Uduaghan's government to fix Isoko leadership for them and the Urohobo nation is not left out in terms of political agitation for state governorship in 2015 too.Urohobo people are more enlighten in political development of Delta state and has the highest local government in the state out of the 25.
It is time for Isoko nation to wake up from slumber and not to play second fiddle in Delta politics in 2015.Isoko nation cannot remain Obi as a boy for Delta politics. Those Isoko politicians sponsoring thugs to abolish their political opponents should deviate from such acts and embrace unity in the regiom.All Isoko activists, publishers, professionals and others must support the developmental progress of the region now.
Written BY GODDAY ODIDI

Disclaimer:

"The views/contents expressed in this article are the sole responsibility of

thewillnigeria.com

and do not necessarily reflect those of The Nigerian Voice. The Nigerian Voice will not be responsible or liable for any inaccurate or incorrect statements contained in this article."
Articles by thewillnigeria.com