Dana Crash: House Insists On Withdrawal Of Dana's Operation Certificate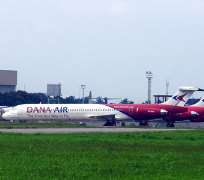 ... Says FG Must Sack NCAA DG, Harold Demuren
ABUJA, January 17, (THEWILL) - The House of Representatives Thursday reiterated its resolve to press the Presidency to withdraw the Air Operation Certificate (AOC) of DANA airlines as well as sack the Director-General of Nigerian Civil Aviation Authority (NCAA), Dr. Harold Demuren.
The Lower House subsequently directed its committee on Legislative Compliance to ensure that these recommendations amongst others in respect of Dana airline crash of June 2012 are complied with.
The House gave the directive following the adoption of a motion moved by Hon. Nicholas Ossai (PDP-Delta), which was unanimously adopted.
THEWILL recalls that the House had on December 19, 2012 mandated its committee on Aviation to investigate the immediate and remote causes of the Dana airline crash of June 3, 2012.
The House had late last year indicted Demuren and called for his dismissal and prosecution for alleged professional and criminal negligence in the June 3rd Dana plane crash which occurred in a town bordering Lagos and Ogun States.
It equally recommended that the air operation certificate (AOC) of Dana Airlines be withdrawn as it was not issued in compliance with the NCAA regulatory guidelines.
These recommendations have however not been complied with by the Federal Ministry of Aviation and its regulators. Instead, DANA airline was given a clean bill of health by the authorities and has since resumed operations.
The House also recommended the sack of NCAA inspector, Engineer Suleiman Akwuh "who did pre-arrival inspection on the ill-fated Dana Aircraft without pre¬requisite professional qualification" expressing dismay that Demuren employed him in spite of his deficiencies.