Jonathan Calls For A More Robust Global Response To Terrorism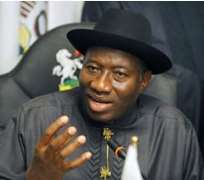 President Goodluck Ebele Jonathan Thursday in Abuja called for a more robust global response to the scourge of terrorism.
Speaking after reviewing recent terrorism-related events in Algeria and Northern Mali with the new British High Commissioner to Nigeria, Mr.
Andrew John Pocock, President Jonathan said that the whole world clearly needed to unite and do much more than is presently being done to contain terrorism with its very negative impact on global peace and security.
President Jonathan condemned yesterday's kidnapping of British, French and other foreign workers at a gas facility in Eastern Algeria by terrorists who claimed to be responding to France's intervention in Mali, saying that Nigeria will continue to work hard with its partners in the international community to ensure that terrorism is vigorously rolled back across the world.
The President told Mr. Pocock that in furtherance of Nigeria's commitment to the war against terrorism in West Africa, Nigerian troops were currently deploying to Mali to join up with the multinational force assembling there to restore Northern Mali to the control of the Malian Government.
Welcoming the new British High Commissioner to Nigeria, President Jonathan assured him that he will have the full support and cooperation of the Federal   Government in his endeavour to further strengthen the existing cordial relations between Nigeria and Great Britain.
President Jonathan had earlier received the letters of credence of the first Ambassador of South Sudan to Nigeria, Mr. Parmena Mankuet Mangar.
He assured Mr. Mangar that Nigeria will remain a strong advocate for peace between South Sudan and Sudan, and that the Federal Government will also give all possible developmental  assistance to the new country.