Imo Government Remains A Stickler For Due Process; Says Speaker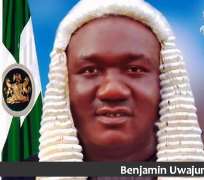 Speaker of the Imo state House of Assembly, Chief Benjamin Uwajumogu says the state government has always followed due process in the conduct of government businesses since it came on board.
Uwajumogu stated this through a statement signed by his Senior Special Assistant on Media, Ikenna Samuelson Iwuoha, while reacting to the recent arrest of two officials of the Imo state government by the Economic and Financial Crime Commission (EFCC).
The financial transaction of the present government in the state have followed due process and with the consent of Imo state House of Assembly," the Speaker said.
He disclosed that the state House of Assembly is currently looking into issues of illegal loans and facilities obtained by previous governments in the state for which the EFCC is yet to make any arrest despite repeated petitions to them.
It s therefore clear that the action of the EFCC in the state is mischievously diversionary and capable of distracting the purpose driven Rescue Mission government of this administration," the Speaker lamented.
The Speaker urged the public to remain law abiding and go about their lawful businesses without fear of molestation.
Recall that the EFCC stormed Imo state last week and arrested the Commissioner for Finance, Deacon Chike Okafor and the Accountant General of the state, Eche George; over alleged fraud. The two officials were later released on Friday.
Pointblanknews.com checks revealed that the EFCC nabbed the two government officials in relation with a N47bn transaction between state government and a unnamed bank.