Re: 'Sylva Bombs Dickson Again: You Are An Unrepentant Liar' The Ranting Of A Serial Liar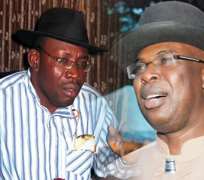 Sadly and very unfortunately, nearly one year after his ignominous regime, which has gone down in the history of our great State, Bayelsa as the worst, Sylva and his criminal minded associates still remember and talk about bombs.
That, a principal member and key player of Sylva's Better Than Forgotten Administration still makes reference to bombs is not suprising to Bayelsans and keen observers of his (Sylva's) administration, because bombs and bombings were one of the major hallmarks of that government, which Sylva presided over.
Bayelsans and residents of Yenagoa can not forget in a hurry that, it was during Sylva's tenure as governor that they were faced with the physical reality of bomb blasts in the State capital, Yenagoa on regular basis intended to scare away his critics who meant well for Bayelsa and his political opponents.
Bomb blasts were regular features at campaign grounds and neighbourhoods of his political opponents and critics.
So, it is not strange that even where there are no bombs Doifie Ola still talks about bombs.
Now, talking about the poorly chosen, hurriedly conceived and ill selected caption of Doifie Ola's write up, one is tempted to ask, 'Did Sylva actually bomb Dickson in every sense of the word or statement?
This is clearly another display of the amplifier or exaggerating and still, the hyperbolic characteristic of the person of Sylva vis-a-vis the deceitful, corrupt and criminal minded nature of the his administration.
In the first place Sylva and his shameless cronies, Doifie Ola inclusive are the once feeding the public with falsehood, without any substantiable facts.
In the first place, there was no time Governor Dickson nor any of his aides made any reference to Sylva during the Transparency briefing in Abuja, but like the popular axiom says, 'The guilty are always afraid'
Sylva is only displaying his guilt in this whole issue.
Talking about lying, one may once again ask this very pertinent question, who is the real liar between Sylva and Dickson?
For 2 years prior to the exit of his uncelebrated administration, Sylva set and announced several commissioning dates for projects and it is on record that not one of those dates were accomplished nor projects commissioned, which was clearly a big lie on his (Sylva's) part and even the little child on the streets of Yenagoa, Bayelsa State still makes reference to it till date.
If Sylva was so sincere, truthful and well intended as we are made to believe by Doifie Ola, has he explained to the elders of his own community why he couldn't fulfil all the numerous promises he made to them, a situation that made Youths of the Community to chase him out during one his visits.
Very very regrettably, Slyva even deceived his own kinsmen of Okpoama by playing pranks with them over the college of education he purportedly wanted to site there.
Was it not the same Sylva, who told his kinsmen again that, constructing a road to his own community of Okpoama in Brass Island is not viable, despite the fact that a multi billion dollar LNG project has been earmarked for the area?
If he was such a wonderful and accomplished Governor, why was he stoned publicly by Bayelsans in Yenagoa and his people in his own community?
We expected Sylva to sitback and ponder about his future, because he can not even visit his community inview of the way he is hated and disliked.
Doifie Ola, what you should be advising Sylva is to go and recouncile with his own people, instead of chasing shadows.
Even the foreign scholarship programmes you (Sylva) inherited, your administration failed to remit monies to our under-graduates, most of whom wouldn't have graduated, but for the timely intervention of Dickson's government.
Sylva is telling Bayelsans that he took bond to execute specific projects and some of the projects had attained 80% completion. All these are blatant lies.
Sylva also crippled all of the State's counterpart funding projects in Agriculture, education (UBE) and many others because of failure to honour the State's part of the agreements.
We would perhaps react most appropriately when he is bold enough to mention the said projects.
For us as a government, we have since after being sworn in on the 14th of February, 2012 religiously and vigorously pursued the main objectives our Restoration government hinged on Free education, development of our critical infrastructure, transparency etc.
We have always wanted our actions to speak for us and it shall continue to be so whether Sylva and his evil and criminal minded cronies who never meant well for Bayelsa like it or not.
We would never be distracted by your antics and will remain focused in the discharge of our goals for the good people of Bayelsa State.
Daniel Iworiso-Markson
Chief Press Secretary to the Governor of Bayelsa State
Disclaimer:

"The views/contents expressed in this article are the sole responsibility of

pointblanknews.com

and do not necessarily reflect those of The Nigerian Voice. The Nigerian Voice will not be responsible or liable for any inaccurate or incorrect statements contained in this article."